Garland Can Academy celebrates opening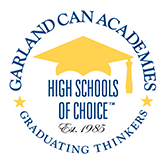 Garland Can Academy celebrated the opening of a new campus Wednesday, Jan. 25 with a ribbon cutting and student lead campus tours. The Garland campus will be the sixth Dallas-area Texans Can campus and is located at 2256 Arapaho Road.
The Garland Can Academy campus has an enrollment of approximately 165 students and has room to grow to 3,000 students. Located inside Arapaho Baptist Church, the campus is a 24,746-square-foot building that includes a 5,400-square-foot gymnasium and full cafeteria.
Richland Community College will participate in the festivities and explain their free and open to the community adult literacy courses that are offered in the school's classrooms.
Garland Chamber of Commerce CEO Paul Mayer, Houston Can Development Council Member Janis Smith and Texans Can CEO Richard Marquez spoke at the celebration. Other attendees included Mayor Douglas Athas and Mayor Pro Tem Scott LeMay, as well as students, teachers and community members.
Celebrating more than 25 years of serving academically at-risk youth, Texans Can! is a unique network of 10 public schools of choice located in Houston, Dallas, Fort Worth, Austin and San Antonio. Using Texans Can! three core values –- discipline in private, reward in public; rules without relationships breed rebellion; and behavior is based on need –- more than 4,700 students a year are getting a second chance at life.
Garland Can Academy, whose mascot is the Jaguars, plans to offer dual credit classes to students so they may enter college with credits that will push them ahead in their required course count, saving them money and time away from work and/or family. The high school also plans to offer endorsements for career certifications, adult literacy classes, computer and job training and English Second Language courses.
The students of Garland Can Academy have overcome obstacles to complete their education. They realize the value of returning to high school and working to earn their diplomas. The mission of Garland Can is to provide a second chance for at-risk youth and their families to achieve economic independence and hope for a better life.
For more information, visit www.texanscan.org.
About Texans Can Academies: Celebrating 31 years of providing the highest quality education for all students, Texans Can schools are graduating thinkers. Texans Can Academies are a unique network of 13 charter schools located in Dallas, Fort Worth, Austin, Houston and San Antonio. The schools are tuition-free, open enrollment, public high schools of choice serving students who have struggled in a traditional high school setting. To date, more than 130,000 youth have been given a second chance at life with the opportunity to pursue their dreams.
Cars for Kids is a 501(c)3 tax exempt organization benefiting Texans Can Academies and is the only car donation program in Texas that is operated by the charity it serves. For more information, visit: www.carsforkids.org.