Garland residents gather for Christmas tree lighting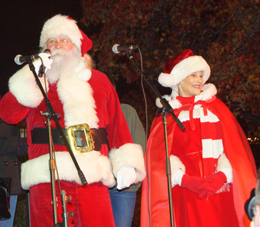 Thursday, Dec. 7, was a wonderful night in downtown Garland as attendees gathered to celebrate Christmas. The tree lighting was followed by an impressive fireworks display and visits and photos with Santa. The weather, which had been unseasonably warm, even cooperated with lower temperatures that felt more appropriate for a Christmas celebration.
Council Members B.J. Williams, Jerry Nickerson, Rich Aubin and Scott Lemay, along with Mayor Pro Tem David Gibbons and Mayor Douglas Athas, were there to wish everyone a Merry Christmas.
Garland ISD student choirs helped get the visitors in the Christmas spirit with carols. Vendors lined the streets with various offerings. The downtown stores were open for browsing and the restaurants were crowded with diners.
There were photo ops with characters roaming the square and crafts for the children as well as snow hills for tubing and pet adoptions. Christians also got to take train rides on Main Street.
Members of the Garland Fire Department were on-hand to collect new toys to be given to local children.
There was also an ice carving demonstration by James Pappas.
Nightly light shows synchroniz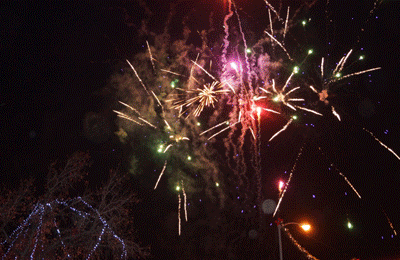 ed with music will continue at the square every night beginning at 5 p.m. and lasting until 10 p.m. through Jan. 1, 2018.
The city also presented a Sensory-Friendly Tree Lighting at 6:30 p.m. Wednesday, Dec. 6, on the square in downtown Garland.
The city of Garland expressed gratitude to sponsors: Garland Parks, Recreation & Cultural Arts; Garland Power & Light; Garland Water Utilities; and Oaks Fifth Street Crossing.