Garland celebrates redevelopment, sign refurbishment at Garland Shopping Center site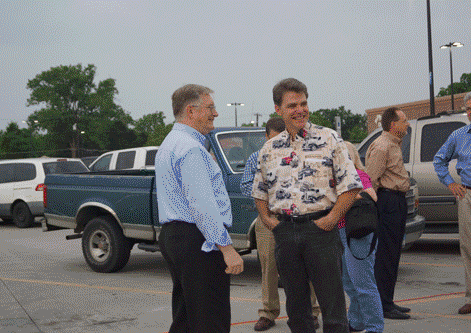 A group gathered at the redeveloped Garland Shopping Center at the corner of Miller Road and South Garland Ave. Tuesday, May 26 to commemorate the re-lighting of the iconic 1950s shopping center sign and renewed life of the site.
Called the Skillern's Shopping Center by many when it opened in the 1950s, stores at the corner includedJCPenney, M.E. Moses, Oglesby Jewelry Store, Wyatt Food Store and more.
The center covered 90,000 square feet and when the $250,000 building permit was issued in 1951, it was the largest issued by the city at that time. The strip shopping center was one of the first of its kind in the North Texas area.
The landmark sign marked the development for several decades until the shopping center fell into disrepair. The structures were eventually demolished and redevelopment was later begun by Walmart. There are now several thriving businesses at this corner once again.
Mayor Douglas Athas expressed gratitude to Walmart for taking responsibility for the sign.
"We're grateful to Walmart for demonstrating such commitment to our community," he said.
The mayor also recognized former District 5 Council Member John Willis for his efforts in the retention and refurbishment of the sign.
"Councilman John Willis was very instrumental, being a part of that and recognizing it…There are more iconic signs in Garland that we are working on saving," Athas said.
The mayor also named several recent projects in which the city has preserved parts of Garland's history.
"During the last few years our community has put a great deal of energy in preserving our history and our heritage, a proud foundation on which to build and grow for years to come," Athas said.
Pete Vanderburg, the manager of the Walmart Neighborhood Grocery now located at the corner said that he at first didn't realize the history of the sign and what it meant to the community.
"As I talked to the community and visited with the mayor, city manager and council, it was a really big deal…just the history of this local area right here…The Garland Shopping Center and the iconic sign…are such important landmarks to this community," Vanderburg said. "So Walmart stepped up and we're proud to help bring this historic sign and shopping center back to life…We will continue to support the sign by ensuring that it remains lit as long as we're here."
The drum line from the Lakeview Centennial High School Patriot band was on-hand to provide a drum roll as the sign was switched on.