Garland company finalist in H-E-B Primo Picks Contest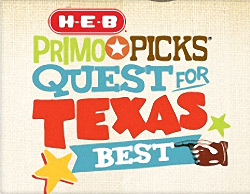 Local food artisans, including one from Garland, have been named out of nearly 500 entries as finalists in the third annual H-E-B Primo Picks Quest for Texas Best search for new and innovative products. The Quest for Texas Best is a signature program for H-E-B's Primo Picks brand, which labels best-in-store products, all unique, delicious and new. Winners will receive $70,000 in cash prizes and coveted space on H-E-B store shelves.
The Garland-based competitor is Kalahari Inc. Assorted Rubs and Spices. The self-dubbed "one-stop shop for innovative flavorful foods and seasonings," Kalahari Inc. is bringing the creativity and culture of African cuisine to the States. With recipes inspired by tradition, immersion, life experience and the desire to communicate flavor to the world, chef Patrick Obinabo has boldly made his way into the Texas food scene. From vegetarians to meat-lovers, Kahalari Inc's tantalizing and healthy creations are sure to please a wide array of discerning palates.
This year's contest attracted applicants from 101 cities and towns across the Lone Star State, yielding a delicious mix of sauces, salsas, spices, sweets, spreads, mixes and meats. In two qualifying rounds, H-E-B business development managers judged submissions on taste and flavor, customer appeal, value, uniqueness, market potential, and differentiation from products already available at most H-E-B stores.
"Quest for Texas Best is a phenomenal opportunity for Texans to get their products on H-E-B store shelves, and for all to explore and enjoy locally sourced products," said James Harris, Director, Diversity & Inclusion and Supplier Diversity, H-E-B. "After all, Texas is home to smart, inventive food entrepreneurs, further advancing our national reputation as a foodie state."
Other finalists include four entrepreneurs from the Dallas area; 10 from the Houston area; two from the San Antonio and West Texas areas; six from Austin; and three from the Rio Grande Valley.
On Aug.10-11 at the Houston Food Bank, the 25 final contestants will present their creations to a panel of expert judges, who will select four winners based on quality, marketability and readiness for production. The grand prizewinner will receive $25,000 and be named a "Texas Best" Primo Pick. First-place will receive $20,000, with $15,000 awarded for second, and $10,000 for third. Each winner will be granted placement on H-E-B store shelves and be named an H-E-B Primo Pick product.
About H-E-B:
With sales of more than $23 billion, the company operates more than 370 stores in Texas and Mexico. Known for its innovation and community service, H-E-B celebrated its 110th anniversary in 2015. Recognized for its fresh food, quality products, convenient services, and a commitment to environmental responsibility and sustainability, H-E-B strives to provide the best customer experience at everyday low prices. Based in San Antonio, H-E-B employs more than 96,000 Partners in Texas and Mexico and serves millions of customers in more than 300 communities. For more information, visit heb.com.