Fire Academy graduates celebrate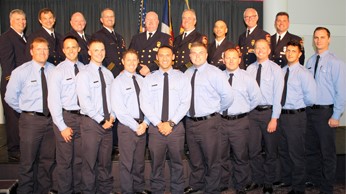 A graduation ceremony was held for Garland Fire Academy Recruit Class 50 at The Atrium at the Granville Arts Center June 14. The academy began Feb. 13 and recruits completed the total 616 hours required by the state for their certification. Class 50 consisted of fire department recruits from Garland, Mesquite, McKinney and Irving.
The academy's lead instructors were Academy Commander Captain Kyle Morris, James Dugger Jr. and Michael Rivera. Several guest instructors from the Garland Fire Department assisted as well.
Garland's new recruits are: Zachariah Altaan, Samuel Avalos, Robert Bunker, Michael Capak, Joshua Downs, Stephen Gulledge, Robert Milburn IV, Preston Morris, Cody Ray and Donald Waddle. Seven of the recruits will begin their shifts at the station while the others begin emergency medical technician school.
Congratulations to all graduates from Recruit Class 50!
Information and photo provided by city of Garland.
About GFD:
The GFD is dedicated to protecting lives, property and the environment of Garland.

Mission Statement
The mission of the GFD is to serve and protect the citizens and business community of Garland through Fire Prevention, Emergency Medical Response and Public Education, as well as quick and effective response for fire suppression and disaster management. We respond immediately when any member of our community needs help with professional, effective and compassionate service.