Garland Firefighters Association hosts Fire Ops 101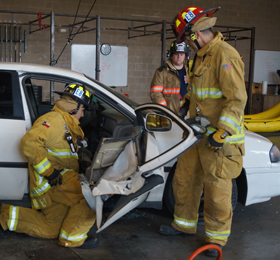 The Garland Firefighters Association Local 1293 recently hosted Fire Ops 101 for decision- makers from the state and city levels as well as city employees. Participants had an opportunity to become more familiar with what Garland's EMTs and firefighters do and the necessary equipment.
Texas State Representative Cindy Burkett HD113, along with her husband, Mike Burkett, as well as Austin Hood, chief of staff for Representative Angie Chen Button HD112 and Robert Paulson, chief of staff for Representative Justin Holland HD133, participated in the event.
City of Garland employees who participated were: Leslie Cloer, civil service director; Kathryn Klepak, HR director; Rick Vasquez, assistant city manager; Ron Young, budget director; and Trent Schultze, GFD budget analyst.
District 5 City Council Member Rich Aubin and District 3 Council Member Jerry Nickerson were also in attendance.
The participants had a chance to experience a few things that firefighters and EMTs experience in their jobs including using the Jaws of Life to simulate extricating trapped car passengers, administering CPR and a simulation of being in a smoke-filled burning building.
David Riggs, Garland Firefighters Association president, explained the importance of decision-makers having a clear picture of what firefighters and EMTs face in their jobs.
"It's important for city staff and City Council members, to understand what we do because they are the decision-makers that decide what tools and resources we have so that we can deliver high quality service to the citizens, visitors and workers in our city," he said. "We are using Fire Ops 101 as a one-day course for hands-on experience with the equipment that they've voted on and secured for us to use."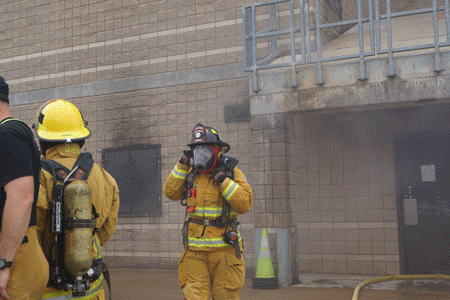 Burkett, who also participated in this event in 2011, said that elected officials do not have a complete understanding about what firefighters and EMTs do.
"I think we have a very general concept, but when you start getting hands-on and watching it all, it's different," she said. "I think all elected officials, especially at the state level are very appreciative of all our first responders and I think when you are actually doing what they do, it puts a whole new twist on it."
Garland's Fire Marshal Mike VanBuskirk explained that elected officials should also know what goes on behind the scenes, like prevention, investigations and inspections.
"It's great for them to get an overview of what the fire marshal's office does," he said. "They know we do inspections and investigations, but do they know why we do them."
District 3 Council Member Jerry Nickerson said that he learned that getting the best equipment possible for the firefighters is critical.
"My perception, as a council member, is that when we are looking at evaluating what is important to our community, we have to understand that what our firefighters do every day is one of the most important things," he said. "And we have to keep them safe in the hazardous environment that they are working in."
District 5 Council Member Rich Aubin agreed that the public safety services provided by the city are among the most important to Garland's citizens.
"We need to have a real understanding of what it is that our fire service does and we have to understand that it's more than just showing up and throwing water on a fire," he said. "We need to understand what all is involved."
Firefighters and EMTs from the Rockwall Fire Department also attended the event with the hope of taking the information back to their city and hosting similar events. Rockwall FD members, both full-time and volunteer, who attended were: Michael Caffey; Adam Honea; Andrew Burton; Justin Barker; Jacob Farrell; Jimmy Cowan; Bruce Winkelmann; Richard Parsons; Mitchell Cotner; and Nathan Dower. Rockwall Council Members Dana Macalik and Dennis Lewis also participated.