Garland firefighters receive award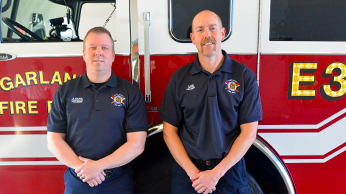 Two Garland firefighters will receive the Texas Fire Chiefs Association's Valor Award Feb. 24. Capt. Sid Bolt and Firefighter Shane Walker are being honored following a Nov. 19, 2014 incident during which they rescued a child from a burning home.
When Garland fire units responded to that fire, a woman who had escaped the blaze informed firefighters that her granddaughter was still trapped inside. Capt. Bolt and firefighter Walker initiated a rescue, entering the building through a high window. The pair located the child and worked together to get her out through the window.
The little girl was not breathing, but firefighters were able to resuscitate her. She was treated at a local hospital and reunited with her family.
"Our department is proud to have our members honored, and we're so glad that our firefighters were able to rescue this little girl," said Garland Fire Chief Raymond Knight. "Our firefighters are honored to serve the people of Garland and are gratified when our response results in a happy ending such as this."
The awards will be presented Tuesday, Feb. 24 during the Texas Fire Chiefs Association conference in Frisco.