Radar to be shared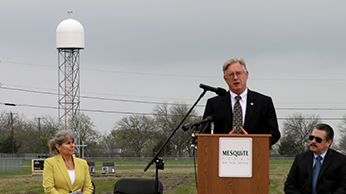 A new weather radar, the Collaborative Adapting Sensing of the Atmosphere, has been installed at the Mesquite Metro Airport to provide lifesaving severe weather data from Garland and Mesquite earlier and more accurately than existing equipment. The Mesquite CASA radar is the seventh and newest to be added to the existing network in the North Central Texas region.
Installation was made possible by combined contributions of the cities of Garland and Mesquite, MUTI Towers, Future TeleCom and Town East Heating & Air. To celebrate the installation, a ceremony was held March 18, at the Mesquite Metro Airport, 1340 Airport Blvd.
Radar functions:
CASA radars improve resolution, sensitivity, accuracy and timeliness by operating at a short range to scan the lower atmosphere. CASA "smart-scan technology" also transmits data every minute, instead of every five minutes like other systems. The Mesquite CASA radar also will enhance tornado and severe weather coverage for southeast Dallas County. The project, called the CASA Dallas Fort Worth Urban Demonstration Network, is a collaboration of CASA, the North Central Texas Council of Governments, local municipalities, the National Science Foundation, National Weather Service and private industry.
Information provided by city of Garland.