Garland Noon Exchange hosts party for students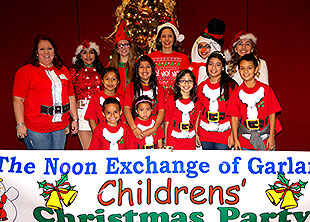 Garland ISD students across the district are having a happy holiday thanks to the generosity of several community members. The Noon Exchange Club of Garland hosted its annual Kids Christmas Party Dec. 9, providing gifts for 168 students from 21 elementaries.
Each school selected up to eight students and worked with parents to personalize wish lists, all while keeping the surprises a secret. Campus counselors then assisted club members in purchasing the gifts.
"The Garland Noon Exchange budgets $15,000 for the entire project," said Club President Javier Solis. "Money comes from aggressive fundraising the prior year, as well as member donations and grants from four local Wal-Marts. Five additional schools have been added the past two years, and Exchange hopes to continue to add schools as fundraising is successful."
On Dec. 8, South Garland High School helped prepare for the next day's festivities by wrapping the presents. At the party, South Garland's Southern Belles continued to help by greeting and entertaining attendees. They were joined by football captains from Lakeview Centennial High School and the New Edition Choir from Naaman Forest High School. Retired WFAA-TV news anchor Gloria Campos served as the event's emcee. And, the afternoon culminated with a special visit from Santa.
"The Kids Christmas Party has grown to not only serve the needs of the elementary students selected, but the high school groups who volunteer as well," commented Solis. "Students from across the district who normally would not come together outside of competition work side by side to serve the children. The excitement of serving others helps plant the seed of community involvement, which we hope will carry on after they graduate from GISD."
Information and photo provided by Garland ISD.