Garland Pawsibilities: Save a life…volunteer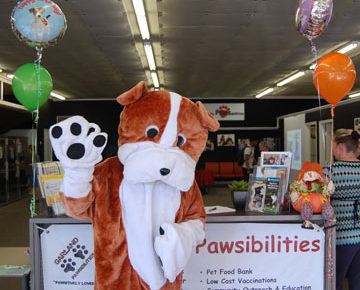 Garland Pawsibilities, located at 813 Main Street in downtown Garland, needs volunteers for various activities including walking dogs, helping staff with adoptions and general help at the shelter. The organization is a 501(c)3 nonprofit volunteer organization that works to help the city's animal shelter adopt out more dogs and cats and promote the need for spay and neutering of pets.
Garland Pawsibilities' volunteers share a love for dog and cat pets, along with a passion for helping find homes for the approximately 10,000 dogs and cats taken in by the Garland Animal Shelter each year. The number of dogs and cats euthanized annually is more than 6,000. The shelter simply runs out of space for them and time runs out before an adoptive family can be found.
The organization needs additional volunteers in order to host more off-site adoption events and save more lives. The group appreciates help from every volunteer including those who can only help one day per month.
Training is required. During training sessions, participants will learn about volunteer responsibilities, policies and procedures, cleaning, feeding, animal handling, animal behavior, etc.
The group welcomes volunteers younger than 14 years of age who participate with an adult on a one-on-one basis. All must go through volunteer training session. Waivers must be signed by all volunteers.
The mission of Garland Pawsibilities is:
Save the lives of dogs and cats brought to the Garland Animal Shelter by taking the adoptable animals out of the shelter and finding them a forever home;
Raise awareness for the need of a new adoption facility for the city of Garland;
Provide pet education information – spay/neuter; general health; training.
Visit garlandpawsibilities.org or email volunteer@garlandpaws.org for volunteer opportunities.
Visit http://www.garlandpawsibilities.org/Garland_Paws_Donations.html for donation information. The organization does not have paid volunteers. All funds raised go toward care of the animals.