Garland police investigate shooting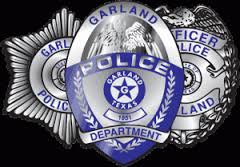 The Garland Police Department responded to the report of a vehicle crashing into a house in the 1300 block of McDonald Drive Sept. 4 at approximately 6:30 p.m. While responding, officers were made aware that people from one vehicle were shooting a gun at the other.
When officers arrived they observed a black GMC Yukon crashed into the garage of a residence on McDonald Drive and the driver of the vehicle had sustained several gunshot wounds.
Detectives were notified and determined that the Yukon was traveling southbound on Saturn Road along with a suspect vehicle. Witnesses stated that two subjects were shooting out of the passenger side windows of the suspect vehicle at the Yukon. The Yukon swerved across all lanes of traffic and crashed into the garage and part of the house in the 1300 block of McDonald.
The suspect vehicle, along with a possible second suspect vehicle, stopped at the house where the Yukon crashed and suspects continued shooting before leaving the scene.
The driver of the Yukon was transported to a local hospital where he underwent surgery and is in critical condition.
Detectives are asking if anyone has any information regarding the shooting to call the Garland Police Department at 972-485-4840. Tips can also be submitted anonymously to Garland Crime Stoppers at 972-272-8477 (TIPS) or garlandcrimestoppers.org.
A reward of up to $5,000 is being offered for information that leads to an arrest or indictment.