Garland receives Recycling Partnership Grant, rolls out final phase of carts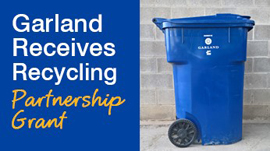 Garland has been selected as the first city in Texas to receive grant funding from the Recycling Partnership, a national nonprofit committed to transforming recycling across the United States. Garland's longstanding dedication to advancing recycling in the community was a contributing factor to grant selection.
Curbside collection of recycling began in 1992 with 18-gallon red recycling bins. Residents' recycling outgrew the red bins and City Council approved an upgrade to 96-gallon blue carts in six phases to spread out the cost of the carts and new trucks required for the program.
The Recycling Partnership will award a reimbursement grant in the amount of $79,000 to assist in the purchase of 96-gallon blue containers and develop educational material for Phase 6.
Phase 6 residents in blue collection area will receive recycling carts the week of Jan. 23 through 26, with service starting the week of Jan. 30 through Feb. 2. Residents in the yellow collection area will receive recycling carts the week of Jan. 30 through Feb. 2, with service starting the week of Feb. 6 through 9.
According to the Recycling Partnership, each year Americans throw away 22 million tons of recyclables. Doing so creates a $1.8 billion economic loss and a 50-million-ton greenhouse gas climate burden.
"Through providing larger recycling carts more material can be recycled, which preserves natural resources, creates gains for industry, and improves air quality and human health," said Garland Environmental Waste Services' Environmental Outreach Coordinator Tiana Svendsen.
Cardboard, mixed paper, plastic bottles and jugs, glass jars and containers, and metal cans can all be placed in the recycling carts together. Items should be clean, dry and empty.
Contact Garland Environmental Waste Services at 972-205-3500 or EWS@GarlandTX.gov if you have questions about recycling or would like to schedule a tour of the recycling drop-off center.