Sports Hall of Fame inducts new members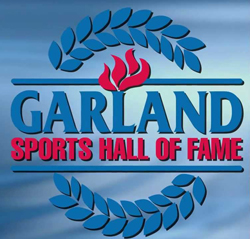 The Garland Sports Hall of Fame, a nonprofit organization formed in 1986, recently held its 31st induction ceremony and four deserving individuals were added to the more than 100 previous inductees.
In 1986, Gale Fields, longtime Garland citizen, first had the idea of a Garland Sports Hall of Fame to recognize the community's outstanding athletes. He found other interested individuals, held a planning meeting, and the organization was created.
Through the years, numerous gifted athletes and other individuals dedicated to Garland sports have been inducted and this year's inductees, Jacob Lacey, Robert 'Bob' Price, Cliff Odenwald and Earnest Nelson III, fit the mold of excellence required to be invited.
Jacob Lacey, a 2005 Naaman Forest High School graduate, played both basketball and football until his senior year when he decided to concentrate solely on football. In his senior year, he was named First Team All-District and was the district's offensive MVP. Lacey continued on to Oklahoma State University where he also enjoyed numerous accomplishments. After college graduation, he played for the NFL's Indianapolis Colts for three seasons. During his pro career, he played in 54 games and had 198 tackles, six interceptions and one touchdown. He was also named to the NFL All-Rookie Team. Lacey was a starter in Super Bowl XLIV that pitted the Indianapolis Colts against the New Orleans Saints. Lacey decided to end his NFL career when, in 2012, he was traded to the Detroit Lions.
Robert 'Bob' Price excelled at football and track at Hallsville High School and has been recognized by his high school as a Distinguished Alumni as well as being inducted into the school's Bobcat Hall of Fame. He attended Tyler Junior College on a football scholarship and won numerous awards.  He played in the Junior College Rose Bowl in Pasadena and was chosen for the second team All-Texas State University. After college, Price enjoyed an impressive career with Garland ISD where he served in capacities including middle school and high school coach, assistant principal, principal and social studies consultant. He received countless recognitions, honors and awards during his career. He also served on numerous community service boards and commissions. Price passed away in 2015.
Cliff Odenwald was a 1974 graduate of Raicher Catholic High School in Waco. He enjoyed success and was the recipient of awards for both football and track. He began his coaching career in 1978 after graduating from McMurry University and joined Garland ISD in 1988. Odenwald served as head coach of the Naaman Forest Rangers football team until 1993 when he was named assistant athletic director. He later served as athletic director for Plano ISD and assistant athletic director for the University Interscholastic League. In 2009 he became the UIL's athletic director. He returned to GISD as assistant athletic director in 2011 and then became the district's athletic director.
Gymnast Earnest Nelson III began his gymnastics career at the age of 7 and excelled in the sport through high school and college. As a South Garland High School senior, Nelson won district and regional all-around titles and won individual titles in floor exercise, horizontal bar, parallel bars and pommel horse events. He also helped lead the Texas High School National Team to a vault title and won the Junior Olympic National Vault title. He attended Ohio State University and won Big Ten titles and helped his team win the NCAA championship. He served as co-captain of the team during his junior and senior years. He accomplished these feats and a long list of others while also making the Dean's List. He now works as a personal trainer, gymnastics coach and martial arts practitioner.
The 2017 Honor Teams were the 2011-12 and 2012-13 Sachse High School girls' soccer teams. The team members won many awards and the coach, Kristen Campbell, was named Coach of the Year in the 2012-13 season. The teams had 11 girls who continued on to play in college with six being Division 1 players.