Chickasaw Nation honors Garland veteran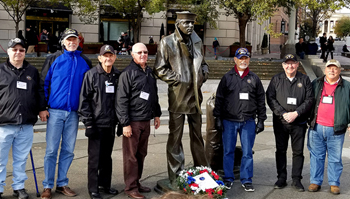 Several Chickasaw Vietnam War veterans have vivid memories of the disdain some members of a divided nation exhibited toward them almost 50 years ago. The Chickasaw Vietnam War veterans are seeing a different attitude now.
One of those honored was Garland resident Robert "Bob" Nichols who was stationed on the USS Kitty Hawk.
The group of 18 Chickasaw Warriors witnessed the 35th anniversary commemoration of the Vietnam Veterans War Memorial in Washington, D.C. during a tour of the nation's capital sponsored by the Chickasaw Nation to honor their service, dedication and bravery.
During the memorial, Chickasaw veterans received thanks for their service and sacrifice by top military officials, Department of Interior Secretary Ryan Zinke and passersby who swarmed the area located immediately northeast of the Lincoln Memorial on the National Mall.
Chickasaw Nation Governor Bill Anoatubby said Veterans Day should serve as a reminder to recognize the commitment of those who serve in the armed forces.
"It is important to acknowledge the great debt we owe to the men and women who place their own safety and security on the line to defend our freedom," said Gov. Anoatubby. "While Veterans Day offers a unique opportunity to personally thank these individuals for their service, it is always fitting to express our appreciation for the work they do to protect our way of life."
Chickasaw citizens and U.S. Navy veterans enjoy the United States Navy Memorial in Washington, D.C. All are Vietnam veterans honored by the Chickasaw Nation for their service with a trip to the nation's capital. Veterans, l-r are, Richard Nichols, Robert Nichols, a Garland, Texas, resident; James Priest, Barry Allen, William Hilton, Richard Bourland and U.S. Marine Larry Paul. The Chickasaw Nation is the 12th largest Native American tribe in the U.S. It is headquartered in Ada, Oklahoma.