Garland resident participates in lung cancer research fundraiser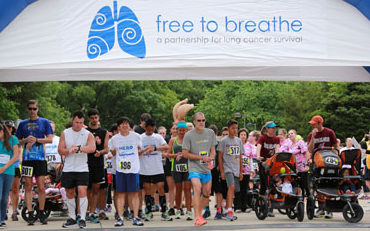 Hundreds of local residents are joining forces to fight lung cancer, united in the belief that surviving lung cancer should be the expectation, not the exception. The Dallas/Fort Worth Free to Breathe 5K Run/Walk and 1-Mile Walk will take place Sunday, May 21 in Plano. All proceeds from the event support Free to Breathe, a lung cancer research and advocacy organization dedicated to increasing lung cancer survival.
Garland resident Ginger Steinmetz will participate in event for the third time. She participates in the event because her friend, Betsy Horn, died of lung cancer.
"I am running for Betsy Horn and her surviving young adult children," Steinmetz said. "She was a dear friend of mine. I miss her. I am hoping even one person can be spared from the loss of losing a friend to this disease."
She added that it is a day to be grateful for the time she had with her friend while contributing to important research.
Steinmetz added that spending time with lung cancer survivors at the event represents hope and inspiration.
"I think survivors are heroes, she said. "It is a tough battle for some."
The Free to Breathe events community has raised more than $16 million to support groundbreaking research and educational programs since 2005. Funds raised support lifesaving research, promote access to clinical trials while building and empower the lung cancer community.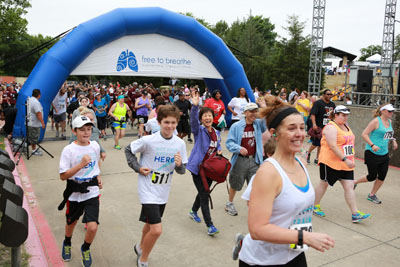 Last year, community members, teams and companies across the region supported the Dallas/Fort Worth Free to Breathe 5K Run/Walk and 1-Mile Walk by raising over $133,000. Event chairs hope to surpass that total in 2017, which will go a long way in supporting programs specifically designed to ensure that more patients become survivors. Every dollar counts to the more than 224,000 people diagnosed in the U.S with lung cancer each year. In Texas alone, an estimated 14,560 residents will be diagnosed this year.
The event will feature a 5K run/walk and 1-mile walk. The day will also include music by local popular band Signed Sealed Delivered, a raffle with prizes, kids activities including face painting and a bounce house and snow cones and fun for the whole family.
Special recognition will be given to top finishers and fundraisers. Gather your squad, and join us for an inspiring day focused on doubling lung cancer survival. To register and begin fundraising, visit www.freetobreathe.org/dallas.