#GarlandProud designs unveiled
In late 2017, the city of Garland invited area supporters to submit T-shirt designs to represent #GarlandProud.
A panel of judges reviewed the submissions, posted the finalists online and invited the public to choose their favorite.
Two designs rose to the top of the fan-favorite list: one designed by Blake Brockway and the other designed by Josh Gonzales. Both artists are Garland natives and were asked to explain their entries.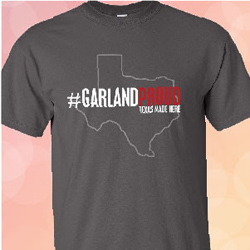 Blake Brockway's design focuses on the Plaza Theatre in Downtown Garland. He said, "I was born here and just moved back. We spend a good amount of time in Downtown Garland. The fact that this building has stood the test of time and still serves the community makes me happy and proud. Downtown Garland is making a comeback, I believe. It's buildings like this that sculpt its face. Also, this is one of my favorite buildings to look at. Forever #GarlandProud!"
Josh Gonzales's design superimposes #GarlandProud over the state of Texas. He said, "I was born and raised in Garland. My kids are now living and going to school in Garland. I have lived in Texas all my life. So I wanted to design something that not only shows pride in Garland, but also repre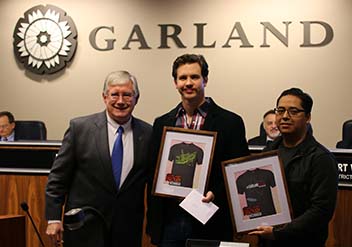 sents the state of Texas as a whole. That is why you see the outline of the state in the design as well as the 'Texas Made Here' slogan from the city of Garland website incorporated into the #GarlandProud."
Both artists were recognized at the Feb. 6 Garland City Council meeting. Each received a framed copy of their design along with a $100 gift card. Congratulations to Josh and Blake!
The city will print T-shirts with their designs. Anyone who has Garland connections and is proud of our community is encouraged to post #GarlandProud stories and pictures to the city's social media pages. Periodically, random posters will be selected to receive a free #GarlandProud T-shirt!
For more information, visit GarlandTX.gov.