GCT auditions cast for 'Dracula the Musical'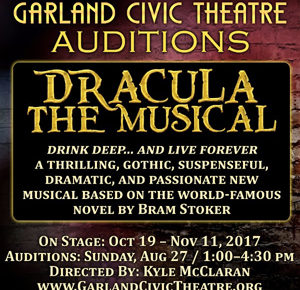 Auditions for Garland Civic Theatre's production of Dracula the Musical, will be Sunday, Aug. 27, every half-hour, from 1 p.m. – 4:30 p.m. Auditions are at GCT rehearsal space, 2703 National Place in Garland. Schedule appointments by calling 972-485-8884 or emailing garlandcivictheatre@yahoo.com or visiting www.SignUpGenius.com/go/4090444A5A92FA5FD0-auditions1.
Production runs Oct. 19 – Nov. 11. Performances are Thursday, Oct. 19, – Saturday, Nov. 11, at Granville Arts Center, 300 North Fifth Street, Garland. Performances include Thursday night preview (Oct. 19) – 7:30 p.m.; Friday and Saturday nights – 8 p.m.; and Sunday matinees (Oct. 29 and Nov. 5) – 2:30 p.m.
Show will be directed by Kyle McClaran. Rehearsals begin Sept. 11. All roles are available and open to an ethnically diverse cast ages 15–75. [principal: 7 males/2 females; ensemble: 8–15 males and females]
Auditions will consist of singing and cold readings from script. Prepare two ballads or other strong, dramatic pieces that show your voice at its finest. An accompanist will be provided – no recordings, please. (musicnotes.com and other online sites are good resources for sheet music) Bring a headshot and resume to appointment if you have them. These are appreciated, but not required.
About the show:  Drink deep… and live forever! A terrifying, passionate musical based on world-famous novel by Bram Stoker.  "Dracula The Musical" is a thrilling drama of suspense and a Gothic romance of dreamlike temptation from the team of Christopher Hampton, Don Black and Frank Wildhorn (Jekyll & Hyde, The Civil War). Set in Europe at the end of the Victorian Age, the story follows famed vampire as he lusts for new blood. Jonathan Harker and Mina Murray fall victim to Dracula's unnatural charm and, along with Dr. Van Helsing, must fight Dracula's supernatural powers. DRACULA will enthrall audiences with its powerful score and potential for showcasing dark or gothic sets and costumes. Stagecraft experts will love bringing the undead to life in this haunting musical of unrequited love.
Music is by Frank Wildhorn. Book and lyrics by Don Black and Christopher Hampton. Production conceived by Des McAnuff, Frank Wildhorn and Christopher Hampton.
Roles include the following:
Jonathan Harker: Straightforward Englishman devoted to Mina. He is a suave lawyer who travels to Dracula's estate.
Count Dracula: Mysterious, passionate and seductive. The vampire leader who desires a change of scene in hopes of obtaining fresh blood.
Mina Murray:  Strong, intelligent and capable of great passion. She is the fiancee of Jonathan.
Renfield:  Obsessed and insane, but with a conscience underneath. He is Dracula's faithful servant with a meek demeanor.
Dr. Jack Seward:  A logical and practical director of the local insane asylum. He becomes a potential suitor of Lucy's later in the story.
Lucy Westenra: Typical slightly naive, beautiful ingenue and loyal friend to Lucy. She is engaged to Arthur.
Quincey Morris: A simple, good-natured Texan who is always up for adventure. He competes for Lucy's affections.
Arthur Holmwood: An average, quiet homebody who will fight when pushed. He becomes engaged to his childhood love, Lucy.
Professor Van Helsing:  Experienced in the strange and obscure, he is charismatic and intellectual yet has strong emotions and is a born leader.
Ensemble:  Staff; Mourners; Maids; Vampire Girls