GCT holds auditions for 'A Murder is Announced'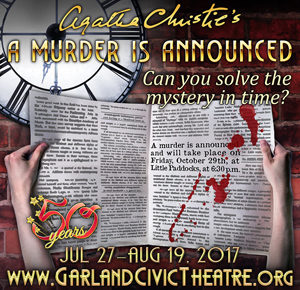 Auditions are now being scheduled for Garland Civic Theatre's production of Agatha Christie's "A Murder is Announced." The show will be directed by Kyle McClaran and was adapted for the stage by Leslie Darborn.
Auditions will be held Sunday, June 11, 1 – 4:30 p.m. at GCT's rehearsal space located at 2703 National Place in Garland. To schedule an appointment, please call 972-485-8884 or email garlandcivictheatre@yahoo.com.
The show will run July 27 – August 19.
All roles are available and open to an ethnically diverse cast ages 18 – 75. There are parts for five males and seven females.
Auditions will consist of cold readings from the script.  Please bring a headshot and resume to your appointment if you have those available. These are appreciated but not required.
An announcement in the local paper states the time and place when a murder is to occur in Miss Blacklock's Victorian house. The victim is not one of the house's several occupants, but an unexpected and unknown visitor. What follows is a classic Christie puzzle of mixed motives, concealed identities, a second death, a determined Inspector grimly following the twists and turns and Miss Marple on hand to provide the final solution at some risk to herself in a dramatic confrontation just before the final curtain.
Roles:
JULIA SIMMONS
LETITIA BLACKLOCK
DORA BUNNER
PATRICK SIMMONS
MITZI
MISS MARPLE
PHILLIPA HAYMES
MRS. SWETTENHAM
EDMUND SWETTENHAM
RUDI SCHERZ
INSPECTOR CRADDOCK
SERGEANT MELLORS
Performances are Thursday, Jul 27 through Saturday, Aug 19 at the Granville Arts Center, 300 N. Fifth St. in downtown Garland. Performances include a Thursday night preview (July 27) at 7:30 p.m., Friday and Saturday evenings at 8 p.m. and Sunday matinees (Aug. 6 and Aug. 13) at 2:30 p.m.
Visit www.garlandcivictheatre.org,  email garlandcivictheatre@yahoo.com or call 972-485-8884 for additional information.
Garland Civic Theatre will be celebrating its 50th anniversary this season.