GCT hosts auditions for 'And Miss Reardon Drinks a Little'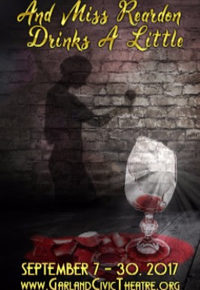 Garland Civic Theatre will soon be holding auditions for its production of "And Miss Reardon Drinks a Little" by Paul Zindel. This full-length dramatic comedy will be directed by Kyle McClaran.
Auditions will consist of cold readings from the script. Please bring a headshot and resume to your appointment if you have them available. These are appreciated, but not required.
Auditions will be held at the GCT office, 2703 National Pl, Garland, TX 75041.
All roles are available and open to an ethnically diverse cast aged 18–75. There are roles for two males, 18-65 and five females, 25-72.
A brilliant Broadway success, this biting, touching and often wildly funny play probes deeply into the tortured relationship of three sisters whose lives have reached a point of crisis. Their father having deserted them in their childhood, the three Reardon sisters have grown up in a house of women, dominated by their mother, who is only recently dead. But time has erased the tender closeness of girlhood; one sister has married and cut herself off; another has begun to drink more than she should; and the third, after a scandalous incident at the school where she teaches, is on the brink of madness. When the married sister comes to dinner to press the need for committing her sibling to an institution, the simmering resentments of many years burst alive and are exacerbated by the intrusion of a well-meaning but boorish neighbor couple, whose unexpected arrival impels the action toward its shattering conclusion—in which all the pathos, humor and searing honesty of the play combine with overwhelming effect.
Rehearsals, which will also be at the GCT office, will begin Aug. 2.
Performances are Thursday, Sept. 7, through Saturday, Sept. 30, at the Granville Arts Center, 300 North Fifth Street, in downtown Garland. Performances include a Thursday night preview Sept. 7 at 7:30 p.m., Friday and Saturday nights at 8 p.m. and Sunday matinees Sept. 17 and 24 at 2:30 p.m.
Visit www.garlandcivictheatre.org, email garlandcivictheatre@yahoo.com, or call 972-485-8884 for additional information.