GCT presents 'Bad Seed'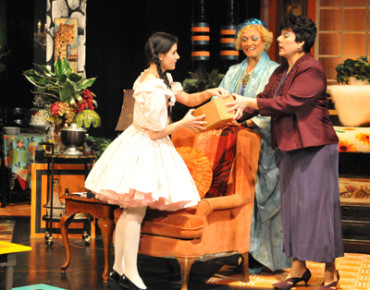 Garland Civic Theatre continues its 47th season with a production of "Bad Seed" by Maxwell Anderson.
The production opened on January 22 and will run Friday through Sunday, Jan. 30 – Feb. 14, with a Thursday performance Jan. 29 at the Granville Arts Center, 300 North Fifth Street in downtown Garland.
Call the box office at 972-205-2790 for tickets or order online at www.garlandartsboxoffice.com. All tickets are $22 which includes service fee. Discounts are available for KERA members and groups of 10 or more. Note that Thursday performances are at 7:30 p.m., Friday and Saturday evenings are at 8 p.m. and matinees (Sundays and Saturday, Feb. 14) are at 2:30 p.m.
Kyle McClaran is directing "Bad Seed" which is based on the William March novel of the same name. The story of the play focuses on the seemingly perfect little girl Rhoda Penmark, who is able to charm her way into getting just about anything she wants. Anything, that is, except a highly coveted penmanship medal that her teacher has awarded to Claude Daigle, one of Rhoda's classmates. During a school outing near the shore, Claude goes missing and it is soon discovered that Claude has drowned near a pier. Rhoda's mother, Christine, begins to suspect that Rhoda had something to do with the boy's death when she finds Claude's penmanship medal hidden in Rhoda's room.
Gradually Christine comes to believe that Rhoda was behind other incidents surrounding the family which also ended with someone dying before their time.
This is one of Broadway's outstanding hits. "It is solely and honestly meant to entertain…As purely purposeful diversion it ranks with 'Dracula' or perhaps 'How to Get Away with Murder' and sometimes sets your spine to as much tingling…chilling."
The cast includes Rose Davidson as Rhoda Penmark, John C. Hogwood as Col. Kenneth Penmark, Adgie Lou Davidson as Christine Penmark, Marilyn Twyman as Monica Breedlove, Kevin Sutton as Emery Wages, John C. Hogwood as Leroy, Chinazo Onwulaike as Miss Fern, Evan Figg as Reginald Tasker, Cindy Kahn as Mrs. Daigle, Evan Figg as Mr. Daigle and Mack Hays as Richard Bravo.
Season sponsors include Garland Cultural Arts Commission and The Dallas Morning News. Underwriters include Linda Braga, Dr. Lisa Garner, and Garland Power and Light. Visit www.garlandcivictheatre.org or call 972-485-8884 for additional information.