'Legends' opens at Granville Arts Center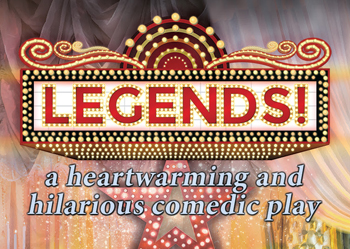 Wheeler-dealer producer Martin Klemmer has uncovered a terrific new script for the Broadway stage, "Star Wars The Musical!"  But his calls are not being returned by any of the powerful Broadway magnates.  Martin needs names – big names like film legends Sylvia Glenn and Leatrice Monsee for the leads.  If Martin can sign them he can get the money to produce the show. Unfortunately, they hate each other!  Will Martin be able to resolve this titanic dilemma in this touching and deliciously entertaining comedy?
The talented cast features Laura C. Cutler and Sue Goodner as the feuding Sylvia and Leatrice, Thomas McKee as Martin Klemmer, Ray-Nata Powell as Aretha Thomas and Tucker Souther.
Performances are Thursday, Sept. 1, through Saturday, Sept. 24, in the small theatre at the Granville Arts Center, 300 North Fifth Street, Garland, Texas.  Performances will be a Thursday night Preview (Sept. 1) at 7:30 p.m., Friday and Saturday nights at 8:00 p.m., and Sunday Matinees (Sept. 11 and 18) at 2:30 p.m.
Tickets are available now! Call the Arts Center Box Office at 972-205-2790 for tickets or order online at www.garlandartsboxoffice.com.  All tickets (except for Thursday Preview Sept. 1) are $22 including the service few.  The Thursday night Preview performance is $12.  There are discounts available for KERA members and groups of 10 or more.
Season sponsors include the Garland Cultural Arts Commission. Please visit www.garlandcivictheatre.org or call 972-485-8884 for additional information.
About Garland Civic Theatre: GCT provides high quality theatrical programs to educate, to entertain, and to enrich the lives of the citizens of Garland and surrounding communities. The organization was founded in 1968 and is the oldest community theatre group in Dallas County. Offices and rehearsal spaces are located at 2703 National Place (near I-635 and Garland Road), and our performances are held in downtown Garland at the Granville Arts Center in the small theatre.