GFD, GPD send help to Hurricane Harvey victims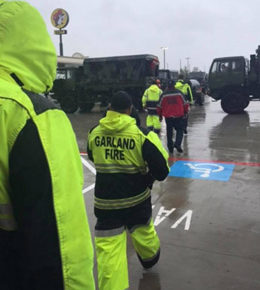 Photos by GFD Captain Collin Blasingame
Anyone who has seen the rescue photos and video from the areas affected by Hurricane Harvey can see that the spirit of helping others is alive and well in the state of Texas as well as many other areas of the nation. Countless cities and agencies are represented in the rescue effort as well as individual volunteers from across the nation.
The Garland Fire Department has deployed both people and equipment to the area. The first to be sent were Captain David Gott, who is working with Texas Task Force II; Captain Collin Blasingame; Lieutenant Scott Tettleton; Driver Engineers Lonnie Green and Brad Meyer; and Firefighters Garret Lamb and Jake Davis.
A couple of days later, Lieutenant Wade Baskin, Driver Engineer Michael Stribling and Firefighters Daniel Caldwell and Randall Giard left Garland h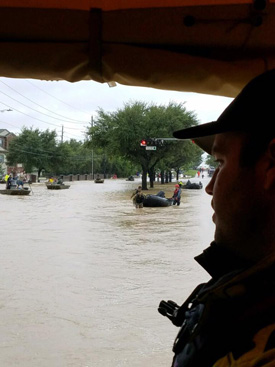 eaded for the Beaumont area. Another firefighter, Michael Capak, is currently deployed as a National Guard member.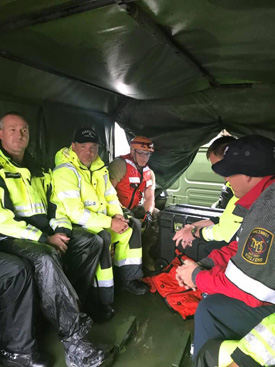 GFD Fire Chief Mark E. Lee also spent time working in the Katy, Texas command center.
According to a recent Garland Firefighters Association Facebook post, other GFD personnel are helping during their off-duty time and using their own boats for rescues.
The post states, "We [Garland] have one of the most dedicated fire departments in the nation. How do we know? We have members serving in the relief effort that range from tailboard, driver, lieutenant, captain and now our even our chief."
The FB post also mentions that there some State Firefighters Association members who lost their own homes but continue to help with the rescue effort.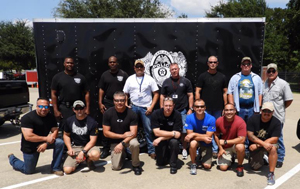 Additionally, news came out late today that the Garland Police Department has sent 14 officers to the hurricane-damaged and flood areas.
"There are so many needs right now so our officers will assist in whatever capacity that is needed," Lt. Pedro Barineau, public information officer said.  "At this time there is not a time frame that they will be needed but we pray for their safety and the safety of every other person that is there to help."
Thank you to Garland's first responders who are giving new meaning to #GarlandProud, the deployed GFD and GPD personnel as well as those who stayed behind to pick up their shifts. Garland residents have known for a very long time that their first responders are "the best of the best."
Thank you as well to City Manager Bryan Bradford, city staff involved in the planning, Garland City Council members and Mayor Douglas Athas for making it possible for the Garland police and fire departments to assist those affected by the hurricane.