GHS students breakfast with Dallas Cowboy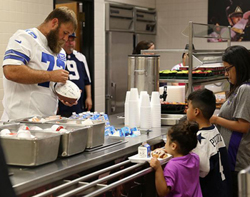 Breakfast is believed to be the most important meal of the day, and Garland ISD wants to make sure its students start their mornings off right. The district, in partnership with Dairy Max and Fuel Up To Play 60, recently challenged all high school students to eat breakfast in the cafeteria every day for one month. The prize for the campus with the most participation was a visit from the Dallas Cowboys.
Increasing its number of students eating breakfast by 13 percent, Garland High School spent the morning with Travis Frederick April 28. He served milk in the cafeteria line, posed for selfies and even signed autographs.
"Hunger is a huge part of my life," said Frederick, a center for the Cowboys, during a television news interview. "One of the things that we do here with Fuel Up To Play 60 is encourage kids to eat breakfast in addition to other well-balanced meals and low fat or fat free dairy roducts. When you have those things, it allows you to be successful in the classroom."
Information and photo provided by Garland ISD.
About Fuel Up to Play 60: The program is an in-school nutrition and physical activity program launched by National Dairy Council and NFL, in collaboration with the USDA, to help encourage today's youth to lead healthier lives. Everybody can get involved! The key to Fuel Up to Play 60's success is having a strong student foundation, a team of committed educators and community engagement. Together we can continue to build a healthy, high-achieving generation of youth!