GISD administrator celebrates retirement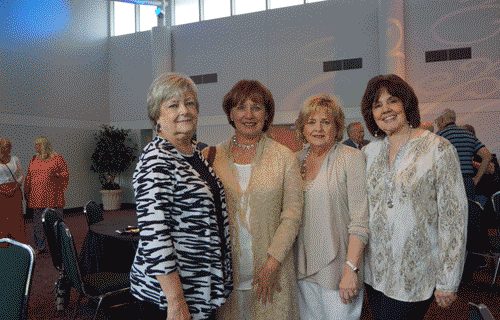 After 45 years with the Garland Independent School District, Dr. Gary Reeves celebrated his retirement Thursday, April 25 at the Atrium in downtown Garland.
Joined by hundreds of well-wishers, Reeves spent more than two hours visiting with people that he had worked with during his career. Numerous family members and longtime friends were in attendance as well.
Reeves began his career in the Dallas Independent School District as a teacher and coach. A few years later, he joined GISD as a teacher and coach at Garland High School. Through the years, he served as an assistant principal as well as an elementary and high school level principal. In the 1980s, Reeves became GISD's assistant superintendent of administration.
He also served as GISD's interim superintendent when Curtis Culwell left. The board's trust, confidence and respect for Reeves were reflected in a statement made when he was appointed to that position.
"His tenure here and strong leadership ability make him a perfect choice for interim superintendent. The board and I are confident that Dr. Reeves will continue to lead the district in the right direction as we finish our superintendent search," said Linda Griffin, the board of trustees' president at the time.
During his career, Reeves was the recipient of numerous awards and served as president of several associations. Additionally, he was inducted into the Kilgore College and Garland Sports Halls of Fame.
Several celebrants expressed admiration and shared thoughts on Reeves' career:
Bob Price, retired GISD administrator, said that for the 54 years that he has known Reeves they have been great friends and worked together at all levels. He added that he was easy to work with because he let you do your job.
Current GISD Assistant Superintendent John Washington shared, "Gary Reeves was fair, sensitive and consistent. You talk about somebody that has a heart as big as Texas. Whatever we needed as far as hiring people, he would find the right people and the funds to get that person. There is nothing negative I could say, or would ever say about Gary Reeves."
Sylvia and Tommy Watkins were recruited by Reeves and Sylvia talked about how special Reeves, along with his wife, Donna, are to her and Tommy.
Several attendees mentioned that Reeves consistently did everything he could to help all GISD employees.
"I worked with Gary for a very long time and he always supported the teachers and all of the people there," Ann Parsons said. "He's a great guy and we sure do miss him."
Homer Johnson, who hired Reeves, said that he had been Reeves' boss and Reeves' had been his and they had always worked well together.
"He's one of the best guys I ever knew," Johnson said.
GHS Coach Johnny McCoy, who is a GHS graduate that had been coached by Reeves, said that Reeves has always been like a father to him.
Reeves expressed gratitude for everyone who was there to celebrate with him.
"They are all family and I appreciate everyone that's here," Reeves said. "They're good people and I love them."