GISD award nominees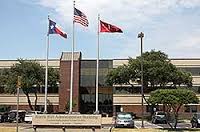 Rachel Denton, girls' athletic coordinator at Ed Coyle Middle School, and special education teacher Shannon Keene, fourth grade teacher Llewelyn Hamilton, and reading teacher Melissa Turingan at Ethridge Elementary School, have been nominated for the 2015-2016 national LifeChanger of the Year award.
Sponsored by the National Life Group Foundation, the LifeChanger of the Year program recognizes and rewards the very best K-12 public and private school educators and employees across the United States who are making a difference in the lives of students by exemplifying excellence, positive influence and leadership.
Denton was nominated by colleague Terrenee Knight. Keene, Hamilton and Turingan were nominated by colleague Jen Cao.
Denton has devoted more than 25 years of her life to teaching PE and coaching girls' sports. One staff member, who spent their first two years in education under Denton's tutelage, credits her for molding them into the successful educator and coach that they are today.
"In addition to being a great role model for her students and athletes, Denton serves as a mentor to new teachers," said Knight. "She took the time to teach me the ins and outs of balancing teaching and coaching."
Keene has been a special education teacher at Ethridge Elementary School for the past five years. Staff members say they have not met a teacher who is more passionate and driven for their students. Her students are challenged and driven because of her high expectations.
"She is making changes here at our school for the better," said Cao. "Keene is always thinking of what is best for the students and how it will help them in their future."
Hamilton is a caring and kind teacher to all her students. She strives to teach the students everything they need to know about academics and real-life situations. Hamilton inspires her colleagues to show students their emotional side and make more personal connections with students throughout the school to make them feel valued.
She challenges her students every day and she handles every difficult situation with grace," said Cao. "She teaches the students love, respect and how to handle themselves in different situations."
Turingan is a dedicated teacher. She used to serve as the 2nd grade team lead, where she always encouraged others to be creative and support one another. Turingan is now the reading teacher and supports students who struggle with their reading skills. Faculty say that it has been a privilege to work with her. She supports their students who struggle with reading skills and strives to do the best she can with all students.
"She supports my students and strives to do the best she can with all students," said Cao. "She is always looking out for others and challenging the students to be the best that they can be."
Each school year, the LifeChanger of the Year program receives hundreds of nominations. For 2015-2016, a total of 16 winners will be chosen by the selection committee to receive cash awards that are split between the individual winner and their school. The national Grand Prize award is $10,000. The top five winners will also be honored at a national awards ceremony.
Nominees must be full-time school employees. Award winners are selected based on the following criteria: Proven ability to make a beneficial difference in the lives of students; ability to positively add to the development of the school's atmosphere; involvement in leadership activities at the school and/or community level; demonstrative record of excellent performance at the professional level; commitment to producing a nurturing atmosphere; adherence to high moral and ethical standards.
Winners will be announced this spring.
This year, a new prize, called the "LifeChanger Spirit Award," will be given to the nominee whose community demonstrates the most support for his or her nomination. Support can be demonstrated through positive comments on the nominee's profile page, social media posts, and school and community recognition activities.
To view Ms. Denton's, Ms. Keene's, Ms. Hamilton's, and Ms. Turingan's LifeChanger of the Year nominee profiles, or to nominate someone from your school community, visit www.LifeChangeroftheYear.com.
Information provided by Garland ISD.