GISD names lone superintendent finalist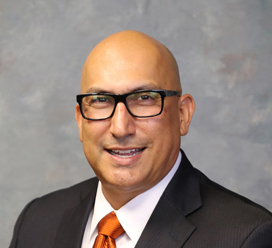 Garland ISD Trustees named Dr. Ricardo (Rick) López as the lone finalist for the district's superintendent vacancy at its Oct. 10 work session. López is the current superintendent for Mission Consolidated ISD in Mission, Texas. He is expected to assume the duties of Garland ISD superintendent sometime after the state-mandated 21-day waiting period.
López has over 20 years of experience in education, beginning as a classroom teacher and leading up to his current position as superintendent of Mission CISD where he supervises 22 campuses and over 15,800 students in the Rio Grande Valley.
Since López's superintendent appointment in 2013, MCISD re-emerged as a leader in education. He has focused on developing Pre-Advanced Placement and Advanced Placement programs, including a PSAT prep program that begins in third grade. An emphasis on STEAM programs resulted in MCISD robotics teams that advanced to state and national competition. In 2014, Mission CISD participated in "Code the Town" in partnership with the Mission Economic Development Center to teach coding to elementary students. Additionally, in 2015, MCISD hosted the Rio Grande Valley's first Educational Google Symposium. Google selected MCISD because of its vision and instructional technology initiatives including 1:1 Chromebooks for all secondary students. In 2015, MCISD was nationally highlighted for its "Read to Lead" balanced literacy program. MCISD has been a focal point for bilingual dual language program integration and universal full-day prekindergarten. López is recognized for his success in closing gaps for all learners. He also created the district's first educational foundation.
Board President Larry Glick stated, "Dr. López's track record of strong student learning gains and his approachable, student-centered demeanor are key reasons for his selection as our lone finalist. As we continue our abiding commitment to student achievement, we have identified a transformational leader focused on true 21st-century education."
López previously served as an area associate superintendent, principal and teacher in Ysleta ISD. As an area associate superintendent, López was responsible for 25 schools serving 17,000 students, PreK-12. These schools saw an increase in graduation rates, SAT scores, student scholarship dollars and improved state testing pass rates. He also helped steer Ysleta ISD in becoming a two-time finalist for the Broad Prize, a national distinction for large urban districts. López's area comprised more than half of the district's English Language Learner population, including the nationally-renowned Alicia Chacon International School, a model for dual language and trilingual literacy.
During the three years that López served as the principal of Del Valle High School, the campus was rated Exemplary by the Texas Education Agency and was the first Recognized high school in Region XIX. All enrolled seniors graduated with their class, and the campus was highlighted in Texas Monthly Magazine for its dual language program. As principal of Desert View Middle School, he led the campus to recognition as a Texas Mentor/Pathfinder School.
López has received numerous awards in recognition of his accomplished leadership, including being named one of the El Paso Times "Top 40 People under 40," as well as Teacher of the Year for both Ysleta ISD and Region XIX. The district was also recognized as the Greater Mission Chamber of Commerce 2015 Partner of the Year. In 2016, he was named National Latino Superintendent of the Year by the Association of Latino Administrators and Superintendents and was honored in Washington D.C. for this award. He has been nominated to be a Broad Fellow by Commissioner of Education Mike Morath.
López received his Bachelor of Arts from the University of Texas at El Paso and his Master of Arts from New Mexico State University. He is a recipient of the University of Texas at Austin Recruitment Fellowship and is a graduate of the Cooperative Superintendency Doctoral Fellow program at the University of Texas at Austin, where he received his doctorate in Educational Administration with Honors.
He is married to Linda, a high school counselor, and they have four daughters.
López succeeds Dr. Deborah Cron who has served as interim superintendent since January 2017. With the assistance of the search firm Hazard, Young, Attea and Associates, Inc., the board garnered public input from community members, families and Garland ISD staff to develop a portrait of desired characteristics and qualities for the new superintendent.
Glick added, "The board is greatly appreciative of all the community input throughout the search process, as well as the outstanding dedication and guidance provided by Cron in her leadership of the district as interim superintendent."
For more information about the search process, visit Garland ISD's Superintendent Search webpage.