GISD trustee engaged in leadership program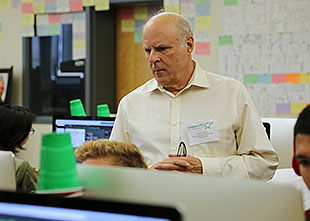 Garland ISD Board President Larry Glick is one of just 35 trustees statewide selected by the Texas Association of School Boards to participate in a yearlong education leadership program. Glick recently joined his counterparts to complete the program's second session, which focused on communication skills.
During the three-day symposium, trustees heard from nationally known motivational speaker Debra Fine and CEO of Generational Edge Amy Lynch. Lynch provided the group with insights into recognized communication strategies when dealing with the general public who represent multiple generations. The Leadership TASB Class of 2016 also visited Lancaster and Frisco ISDs.
In addition to attending informational sessions, program participants engage in extended group learning assignments between meetings. Those who complete all required elements of study will graduate by earning TASB's highest-recognized designation—Master Trustee status.
More than 700 trustees have graduated from the program since its creation in 1993. Glick's next session is scheduled for Feb. 25-27 in Corpus Christi.
Information provided by Garland ISD.