Golden Chick to host fundraiser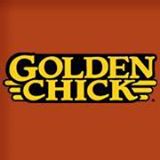 Dallas-Fort Worth area Golden Chick Restaurants will host the "Back the Blue" fundraising event Monday, Aug. 1, to raise funds for the families of the officers who lost their lives in the tragic July 7 downtown Dallas shootings. The Texas-based chicken legend prides itself on treating guests like family since 1967 and is looking forward to hosting this event to help the families of the five fallen officers.
All 62 Golden Chick Dallas-Fort Worth area locations will be donating 20 percent of their Aug. 1 sales directly to the Assist the Officer Foundation. Additionally, all locations will be accepting in-store cash donations as well as inviting all local police officers to enjoy a free meal at any Golden Chick DFW area location.
"Our team was heartbroken when we heard the news July 7," said Golden Chick CEO Mark Parmerlee. "Dallas is our home, and we knew immediately that we wanted to show our support and give back to the families who lost their loved ones in the line of duty on that tragic night. We invite everyone to come and make donations and we look forward to serving first responders a hot meal."
Visit the Golden Chick Facebook Page for additional details and updates on the local fundraiser at https://www.facebook.com/GoldenChick/.
Click here to find the nearest location.
In addition to offering both takeout and dine-in options, Golden Chick offers catering services.
According to Golden Chick's website, "The Golden Chick Story began in Central Texas in the late 1960s when the concept was created by a former employee of a chicken franchise who believed there had to be a better way to run a franchise system. The delicious chicken, created by the development of secret marination and batter mixes, attracted franchise inquires, and by the time the founder sold the chain in 1982, it had grown to 39 restaurants."