GPD earns regional recognition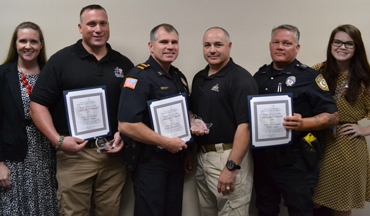 The Garland Police Department's Special Weapons and Tactics team and the Explosive Ordnance Disposal team are grateful to their mutual aid partners for their support during last May's terrorist event in Garland. Garland representatives presented their partners the Regional Service Excellence Award during an Oct. 15 event at the North Central Texas Council of Governments.
At the same session, the Garland Police representatives were surprised with their own award presented by the Emergency Preparedness Planning Council, not only for their successful response May 3, but also for the more than 10 years of support provided throughout the region. Both the SWAT and EOD teams have responded several times during the past decade to help neighboring jurisdictions, including many rural communities with fewer law enforcement resources.
The highly-coveted Regional Service Excellence Award is given to stakeholders in the North Central Texas region in recognition of extraordinary efforts that go above and beyond regular duties in helping build strong and effective regional emergency preparedness capacity.
Pictured left to right: Mollie Rivas, Garland Office of Emergency Management; Officer Christian Gipson; Capt. John Atkins; Lt. Dan Colasanto; Officer Tony Blassingame; Savannah Martin, Garland Office of Emergency Management.