GPD needs help to ID robbery suspect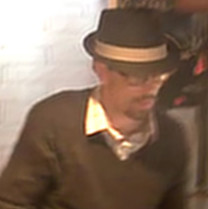 Police have recovered video from a Starbucks robbery that occurred Nov. 19 just before 5 p.m. A white male entered the store in the 2100 block of Northwest Highway carrying a handgun. The man pointed the gun at an employee and demanded money from a register. After robbing the restaurant the suspect fled the location and headed east on foot.
The robber is described as being approximately 6' tall with a slim build. He has brown eyes and was wearing glasses. He also has brown hair and a goatee. He was wearing a navy blue sweater vest, dress slacks, dress shoes, was carrying a satchel and was wearing a fedora style hat.
Detectives are asking for help from the public to identify this aggravated robbery suspect. If anyone knows the identity of this man they are asked to call the Garland Police Department. Information can also be sent to Garland Crime Stoppers at 972-272-TIPS (8477) or online at garlandcrimestoppers.org