GPD officer Felicia Jones assists motorist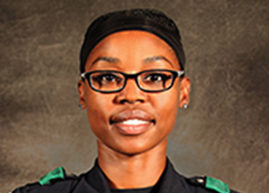 Garland Police Officer Felicia Jones assisted a motorist whose vehicle hood had unlatched and obstructed her view while driving on IH-30. The driver was able to pull over and call 911, and in minutes Officer Jones arrived, secured the hood for the driver and escorted her safely off the highway.
The driver was so grateful for Officer Jones' service that she contacted the Garland Police Department the next day to thank Officer Jones for her bravery and professionalism.
"I know that my call was probably not the most significant she received that shift, but I can tell you that for this scared stranded driver, the little boy growing in my tummy, my sweet 2-year-old at home and my loving husband… it was the most important thing she did that night," the driver of the vehicle, Jennifer Rickerson, wrote in an email to the police department.
"It's the little things that police officers do without even thinking that mean so much to people in our communities," Jennifer continued. "I am so grateful for Officer Jones and others like her that are willing to put themselves in danger and discomfort every day. What's even more impressive is when an officer can perform her duty with such compassion, empathy and professionalism."
Officer Jones joined the Garland Police Department two years ago after serving seven years as an officer in Shreveport, Louisiana. She is already a Field Training Officer and is also one of the department recruiters.
"She is definitely one of the 'faces' of the Garland Police Department," said Garland Police Chief Mitch Bates. "If we had 300 more like Felicia Jones, you wouldn't need me or any other police chief."
The city of Garland says "thank you" to Officer Jones for being such a wonderful ambassador for our city.
Information and photo provided by city of Garland.