Officers use equipment, training to save lives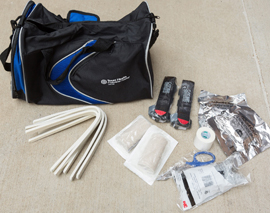 Garland police officers used life-saving training and equipment to save a life June 4 when they responded to a family disturbance call in the 100 block of South Jupiter Road. The call involved a severely injured male. The subject had received a traumatic injury to his arm and was bleeding profusely from a severed artery. The subject lost consciousness due to the loss of blood as police arrived on the scene.
The officers immediately applied a tourniquet and employed other first aid procedures to slow the bleeding. The subject was rushed into surgery at Parkland Hospital and is expected to recover.
In February of this year, the Garland Police Department received a donation from Texas Health Presbyterian Hospital of 35 medial hemorrhage-control kits to be placed in each patrol vehicle. Each kit contained emergency equipment such as tourniquets, quick clot bandages, scissors, splints and goggles.  In addition, Texas Health Presbyterian provided training to GPD patrol officers on the on the use of this equipment.
Uncontrolled bleeding from an extremity is the No. 1 preventable cause of trauma deaths. It is not uncommon for  the police department to be the first on scene of a traumatic incident.
Garland police officers have been equipped with tourniquets over the past few years. The tourniq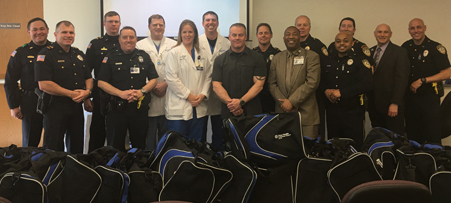 uets were issued to the officers with the intention of being applied to themselves or another officer in case of suffering a gunshot wound to an extremity.
Since 2014, GFD officers have been credited with saving the life of four people (including the subject described herein) by using these tourniquets and the "stop the bleed" procedures.
The equipment and training from Texas Health Presbyterian was vital in the life-saving efforts June 4. The responding officers will receive life-saving awards for their actions.