Grilling season: Fire safety a must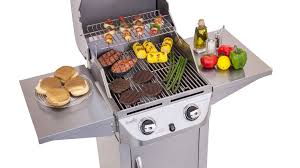 The National Fire Protection Association is reminding the public to use safe grilling practices as the peak months for grilling fires approach. Each year an average of 8,800 home fires are caused by grilling, and close to half of all injuries involving grills are due to thermal burns. While nearly half of the people who grill do so year-round, July is the peak month for grilling fires followed by May, June and August.
For gas grill injuries, about a third were burns that stemmed from lighting the grill, while gasoline or lighter fluid was a factor in about a quarter of charcoal or wood burning grill burns.
NFPA offers the following grilling safety tips:
Only use propane and charcoal grills outside of the home – never use them indoors.
Make sure the grill is positioned well away from the home and/or deck railings, and that it is not underneath any eaves or overhanging branches. It should also be far from lawn games, play areas, or foot traffic.
Establish a child- and pet-free zone around the grill of at least three feet.
Use grilling tools that have long handles, which will allow more clearance from the flames.
Clean fat/grease off grill and from trays underneath regularly to reduce the risk of it igniting.
Never leave grill unattended.

Gas grills:
Before using the grill for the first time each year, check the gas tank hose for leaks. To do this, apply a light soap and water solution to the hose and turn the tank on. If the hose releases bubbles, this indicates a propane leak. If you find a leak,

Turn the gas tank off.
If the leak stops, take your grill to a professional to be serviced before further use.
If the leak does not stop, call the fire department.

Only use equipment bearing the label of a recognized testing laboratory. Use the manufacturer's instructions regarding assembly, use, and proper care of the grill.
If you smell gas while using the grill, get away from it immediately and call the fire department.
Do not store propane tanks indoors in houses or garages. If storing your grill indoors during the winter months, disconnect the cylinder and leave it outside.

Charcoal grills:
If using a "charcoal chimney" to light charcoal for grilling, use a long match to avoid burning your fingers while lighting the paper.
Never add starter fluid to coals or kindling that have already been ignited – and use only charcoal starter fluid. Never use gasoline or any other flammable liquid.
Keep charcoal fluid away from heat sources and out of reach of children.
When finished grilling, wait for coals to cool completely and dispose of them in a metal container.
For more safety tips, videos, facts and figures, and audio clips, visit http://www.nfpa.org/grilling.