GSO begins 2017-18 season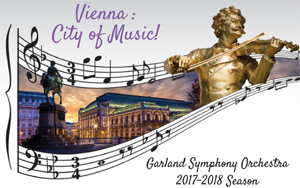 Join the Garland Symphony Orchestra on a trip to Austria in Vienna: City of Music, the 2017-2018 Season at the Granville Arts Center.
For less than the price of a good bottle of Gruner Veltliner, you can immerse yourself in great Viennese music, with symphonies by Mozart (Jupiter), Beethoven (Eroica), Schubert (Symphony No. 9 in C Major), and Mahler (Titan). Share in Brahms's exquisite Piano Concerto No. 2, and Beethoven's Emperor concerto. Naturally, there will be waltzing, polkas, and quadrilles from Vienna's beloved Strauss family!
Additionally, An international array of brilliant soloists will be on hand, including Mexican flutist Joaquin Melo and Bulgarian pianist Ivan Donchev.  Closer to home, Texan Alex McDonald (pianist) and Scott Stratton (trombonist) will also appear as concerto soloists.  The season's distinguished array of guest conductors is headlined by Oliver Weder of Germany, Vicent Alberola from Spain, and Piotr Sulkowski from Poland.
All performances take place at the Granville Arts Center – Brownlee Auditorium, located at  300 North Fifth Street in downtown Garland
Ticket prices range from $17.50-37.50 and are available at GarlandArtsBoxOffice.com, 972-205-2790 or in person at the Granville Arts Center Box Office. The box office is open Monday-Friday, 10 a.m.-4 p.m. and two hours before each performance.
About GSO: Since March 1978, the Garland Symphony Orchestra has been dedicated to providing performances of great orchestral music to Garland and its surrounding communities.  Over the years, the GSO has presented over 180 concerts featuring the music of more than 200 composers, including the premieres of new works by Texas composers.  The orchestra attracts an audience from Garland, Dallas, Richardson, Rowlett, Rockwall and Sachse.
The orchestra's first season was led by violinist James Gambino; for the following two seasons, the late Howard Dunn, former conductor of the highly regarded Dallas Wind Symphony, took the podium. Mischa Semanitzky took up the GSO's baton for the 1981-82 season and was succeeded by Daniel Hornstein.
In 1986, the artistic reins of the Garland Symphony Orchestra were passed to the current music director, Robert Carter Austin.  Under Austin's leadership, the orchestra made the transition from a group of highly dedicated volunteer musicians to a virtuoso ensemble of the finest professional instrumentalists in the DFW Metroplex.