Garland Symphony Orchestra continues season: 'Vienna, City of Music!'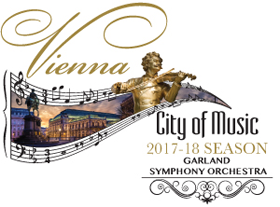 No other city in the world can boast a musical history as illustrious as Vienna's.  In a single afternoon, you can visit Haydn's house, Beethoven's apartment and the Cathedral where Schubert sang as a boy.  Or, for less than the price of a good bottle of Gruner Veltliner, you can immerse yourself in great Viennese music with a subscription to the Garland Symphony Orchestra's 2017-18 season, "Vienna, City of Music."
The next performance, which features Scott Stratton on trombone, is Feb.16, 2018 at 8 p.m. at the Granville Arts Center, Brownlee Auditorium, 300 North Fifth Street in downtown Garland.
Stratton will perform Grondahl's Concerto for Trombone and Orchestra.
Stratton has served as Principal Trombone of the Garland Symphony since 2001 and during that time has performed with orchestras and in churches throughout the Metroplex. Stratton has taught private students, taught at Texas Christian University, the State University of New York and served for two years as an assistant to the dean of the Eastman School of Music.
Additionally, he studied with two pupils of the legendary pedagogue Emory Remington: in high school, with George Osborn,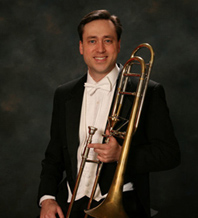 Principal Trombone of the Rochester Philharmonic and in college, with Raymond Premru, at the Oberlin Conservatory. Stratton also received a Ph.D. of Musical Arts from the Eastman School of Music at the age of 25. He also earned a Master of Music degree and was awarded the Performer's Certificate, while a student of Dr. John Marcellus.
In 2004, Stratton began a second career as a financial adviser. He holds the certified financial planner designation, completed a Certificate in Financial Planning from Boston University and received the chartered financial analyst designation. He is the owner of Good Life Wealth Management and writes about the intersection of his interests on www.FinanceForMusicians.com.
GSO credits its music director, Robert Carter Austin, for its continued outstanding and diverse orchestral programming. Maestro Austin's background encompasses over 30 years of professional music experience and includes degrees from MIT, Cambridge University and Stanford University. Maestro Austin's musical experience includes conducting performances in many countries including: Korea, Ukraine, Canada, Italy, Spain, China, France, Germany, Mexico, Bulgaria, Ecuador, Colombia, Philippines, Guatemala, Dominican Republic and the United States.
Season tickets as low as $61!  Single tickets are $17.50, $27.50 and $37.50.  All are available by calling 972-926-0611, faxing 972-926-0811) or emailing info@garlandsymphony.org.
Group discounts are available. Call the GSO office for more information 972-926-0611.
More information: www.garlandsymphony.org.