GSO continues 'Vienna, City of Music'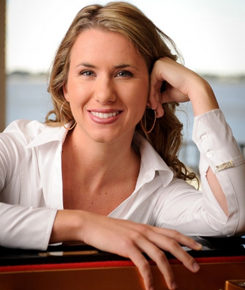 Join GSO for the continuation of its season, "Vienna, City of Music. In a single afternoon in Vienna, one can visit Haydn's house, Beethoven's apartment and the Cathedral where Schubert sang as a boy.  Or, for less than the price of a good bottle of Gruner Veltliner, you can immerse yourself in great Viennese music with a subscription to the Garland Symphony Orchestra's 2017-18 season.
GSO"s next performance is Jan. 19, 8 p.m. at the Granville Arts Center, 300 North Fifth Street in downtown Garland. It will feature Lindsay Garritson on piano, performing Beethoven's Piano Concerto No. 2 in Bb Major. Garritson has performed throughout the United States and abroad since the age of four. She has appeared as a soloist with the Phoenix Symphony, Las Colinas Symphony Orchestra, Charleston Symphony Orchestra and Orchestre Métropolitain, along with numerous others. An award-winning performer, Garritson has received numerous top prizes at prestigious competitions.
She was invited to compete in the 2013 Van Cliburn International Piano Competition, and in 2014, she was invited to compete as one of six finalists worldwide for the 2014 German Piano Award, held in Frankfurt, Germany.
Lindsay holds degrees from Principia College (B.A. in Music) and Yale School of Music (M.M. and artist diploma). Her piano teachers include Santiago Rodriguez, Boris Berman, Luiz de Moura Castro, Choong-Mo Kang, Zena Ilyashov, Emilio Del Rosario, the late Jane Allen and Jennifer Lim. She is currently pursuing a doctorate in piano performance from the University of Miami.
In addition, the GSO will feature guest conductor, Piero Romano, from Taranto, Italy. Winner of various national and international competitions, Piero Romano has performed both as pianist and conductor in many Italian cities as well as in Austria, North America, South America, Spain, Belgium, France, Switzerland, Albania, Mexico, and more.
He has worked with the Philharmonia of Greensboro, of the State of Mexico, the Alicante Symphony Orchestra, the Baden-Baden Philharmonic Orchestra (the oldest orchestra in Europe), the Orchestra of Madeira, the Nuevo Leòn Symphony Orchestra, the Orchester Pforzheim, the United European Chamber Orchestra, the Athens State Orchestra, the Solisti Aquilani, the Everett Symphony Orchestra.
Since 2014 Romano has been music director at the Matera Conservatoire as well as the artistic director of the Orchestra della Magna Grecia and for the Comune di Taranto Opera Season.  His recordings include music by Gervasio, Poulenc, Rota, Lord Berner's, Walton, Procaccini.
GSO credits its music director, Robert Carter Austin, for its continued outstanding and diverse orchestral programming. Austin's background encompasses over 30 years of professional music experience and includes degrees from MIT, Cambridge University and Stanford University. His musical experience includes conducting performances in numerous countries.
Season tickets as low as $61!  Single tickets are $17.50, $27.50 and $37.50.  All are available by telephone 972-926-0611, fax 972-926-0811 or email info@garlandsymphony.org.  Group discounts are available; call GSO office for more information.
For more information visit www.garlandsymphony.org