GSO to feature bassoonist Leslie Massenburg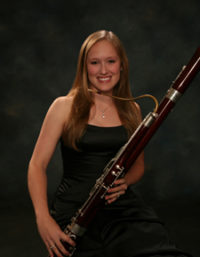 Garland Symphony Orchestra features its principal bassoon, Leslie Massenburg as it continues its 2016-2017 season, "Symphony Goes Wild!" Feb. 17.
Composers have always taken inspiration from nature, so it is no surprise that many have picked up their pens to give us musical depictions of the fascinating creatures with whom we share the planet. This season, GSO will offer the most delightful and entertaining of these philharmonic fauna, from the smallest (Shostakovich's gadfly) to the largest (Saint-Saëns' elephants). Our musical zoo will include bears (Haydn and Bartók), horses (Auber), penguins (Scott) and even a cow (Milhaud). A few mythical animals will come to musical life as well, including Stravinsky's Firebird and Debussy's Faun.
This concert will feature Massenburg performing Hummel's Concerto for Bassoon and Orchestra.
Massenburg began her musical studies with piano at the age of five. She started playing the bassoon in 1995 and continued to Baylor University, where she earned an undergraduate degree in bassoon performance and piano pedagogy. She furthered her bassoon studies with a master's degree from Southern Methodist University and three years at the Aspen Summer Music Festival where she studied with Wilfred Roberts, principal with the Dallas Symphony Orchestra and Per Hannevold, principal of the Bergen Philharmonic in Norway.
Massenburg is a frequent substitute with the Dallas Symphony Orchestra, recently accompanying them on their residency in Vail, as well as the Fort Worth Symphony Orchestra, Dallas Summer Musicals and the New World Symphony in Miami. She is the principal bassoonist for the Las Colinas, Garland and Arlington Symphonies, as well as contrabassoonist for the Dallas Wind Symphony and Plano Symphony.
She is an adjunct bassoon professor for Brookhaven College and has an extensive private teaching studio in the Dallas area. She has served on the faculty of the Baylor University Summer Music Camps and is director of the Bassoon Academy of Dallas. She recently completed filming for MusicProfessor, a series of online, interactive bassoon lessons for schools and students without access to a private teacher.
This concert will feature guest conductor, Jan Zarzycki of Poland. He is managing and artistic director of the Witold Lutosławski Chamber Philharmonic in Łomża and a professor at the Fryderyk Chopin University of Music in Warsaw. He is a prize winner of competitions in Italy, Spain and Hungary.
He studied conducting with Marek Pijarowski at the Music Academy in Wrocław, earning his diploma with distinction in 1994. He then continued his studies in Vienna and Berlin, under the guidance of such famous conductors as Seiji Ozawa, Kurt Masur and Claudio Abbado. He has worked with the National Polish Radio Symphony Orchestra in Katowice, Sinfonia Varsovia, and the Warsaw Chamber Opera. In 1999, he was nominated to join the conducting faculty at the Fryderyk Chopin University of Music in Warsaw. He has conducted most of Poland's symphony orchestras, and foreign tours have taken him to countries including Germany, France, Austria, Holland, the Czech Republic, Russia, Italy, Ukraine, the United States, Lithuania and Belarus. He has recorded 10 albums.
GSO credits its music director, Robert Carter Austin, for its outstanding programming. His background encompasses over 30 years of professional experience and includes degrees from MIT, Cambridge University and Stanford University.
Season tickets are available for as low as $61. Single tickets are $17.50, $27.50 and $37.50. All are available by calling 972-926-0611, faxing 972-926-0611 or emailing info@garlandsymphony.org. Group discounts are available.
All concerts are at the Granville Arts Center, 300 N. Fifth St. in downtown Garland. Shows begin at 8 p.m. For more information, visit www.garlandsymphony.org.