GSO features Oleg Larshin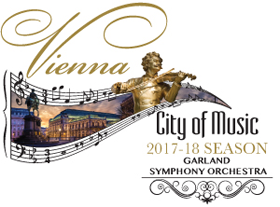 Garland Symphony Orchestra opens its 2017-2018 "Vienna, City of Music!!" Oct. 20 at the Granville Arts Center, Brownlee Auditorium in Garland. No other city in the world can boast a musical history as illustrious as Vienna's. In a single afternoon, you can visit Haydn's house, Beethoven's apartment and the Cathedral where Schubert sang as a boy. Or, for less than the price of a good bottle of Gruner Veltliner, you can immerse yourself in great Viennese music with a subscription to the Garland Symphony Orchestra's 2017-18 Season: "Vienna, City of Music."
The concert will feature violinist, Oleg Larshin performing Bruch's Violin Concerto No. 1 in G Minor, Op. 26. Larshin started his musical studies at the age of seven under the direction of professor Zoya Mahtina. He then continued his studies with Eduard Gratch at Moscow Conservatory, Dmitry Berlinsky at Michigan State University and Emanuel Borok at Southern Methodist University. He is currently pursuing an artist diploma program under the guide of Elizabeth Adkins at the Texan Christian University.
He debuted with orchestra at the age of 17 with Moscow State Orchestra under the baton of Alexander Slutsky. Since then, he has toured Russia every year with Moscow State Orchestra, as well as appearing with the Moscow Special Central Pre-Conservatory Music School Orchestra, the Michigan State University Orchestra, and the Meadows Percussion Ensemble, collaborating with conductors such as Mark Gorenstein, Beau Benson, Alexander Yakupov and Jon Lee.
He has performed extensively as a soloist as well as in chamber music formations. He currently forms a recital duo with pianist Yumi Palleschi. From 2012-2013 Larshin was a member of the Big Symphony Orchestra named by "P. I. Tchaikovsky," with whom he toured extensively in Europe and Asia.
In addition, the GSO will be performing von Suppe's Morning, Noon, and Night along with Strauss' Wiener Blut.
Garland Symphony Orchestra credits its music director, Robert Carter Austin, for its continued outstanding and diverse orchestral programming. Maestro Austin's background encompasses over 30 years of professional music experience and includes degrees from MIT, Cambridge University and Stanford University. Maestro Austin's musical experience includes conducting performances in many countries including: Korea, Ukraine, Canada, Italy, Spain, China, France, Germany, Mexico,
Bulgaria, Ecuador, Colombia, Philippines, Guatemala, Dominican Republic and the United States.
Season tickets are available for as low as $60!  Single tickets are priced at $17.50, $27.50 and $37.50.  All are available by telephone 972-926-0611, fax 972-926-0811 or email info@garlandsymphony.org.  Group discounts are available.
For more information visit www.garlandsymphony.org  or call 972-926-0611