Guatemalan tamales, a local family's tradition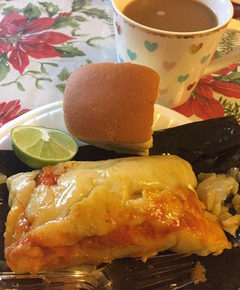 By Ericka Mendoza
While it is traditional to observe Christmas on Dec. 25, many Hispanic families carry out their celebrations the day before. The Christmas Eve commemorative festivity is carried out all day Dec. 24 until midnight, which is when "Noche Buena" is recognized.
Although every family is different, common customs for Noche Buena include the preparation of tamales for family gatherings. Not entirely a burrito, nor a fajita or close to a taco, a tamale is a popular Hispanic dish that is filled with a corn-based dough, often times combined with chicken, beef, pork, cheese or vegetables.
Martha Mendoza from Garland is the eldest sibling of two sisters and one brother and has always assisted her mother in decorating the house every year for their celebrations.
"Giving our house a deep cleansing before our guests arrive to my family's Christmas celebration is something my family and I do every year," she said. Knowing the house is clean completely changes the aura. It just improves Christmas spirit."
Mendoza noted that using sages is a popular way to bring good spirits into the Hispanic residency, ridding the home of any negative energy.
Post house cleaning, it is time to prepare the tamales. Depending on which country the family is from, the recipe could include wrapping the maize dough with a corn husk or banana leaf. Families of Mexican roots make their tamales smaller and wrapped with corn husk. Central American tamales come out larger, wrapped in banana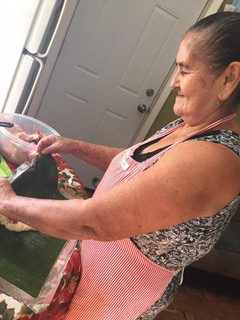 leaves.
Though delicious and satisfying, cooking tamales can be complicated and time consuming unless you have years of experience. Preparing them early is suggested to ensure that guests have full and immediate access to this treat once they have arrived.
It is most common for "La abuela," Spanish for grandmother, to cook the tamales. If she is not working alone, the entire family of that household will form a cooking alliance.
My family makes 50 Guatemalan tamales, standard for the Noche Buena celebration. Here's the recipe for the Guatemalan tamales, Mendoza-family-style:
Mendoza tamale recipe
Start to Finish: 5 hours
Servings: 50
50 small pieces of the meat of your choice (we like pork or chicken)
10 tomatoes
4 ancho chile peppers
1 olive for each tamale
1 of each dry prunes
6 red bell peppers
50 banana leaves
1 cup sesame seeds
1 cup salsa
The first step is to prepare maza, Spanish for dough. Put corn-based flour in a pot and add 1 cup of water to make dough.
Grill tomatoes, sesame seeds, tomatillo, ancho chile peppers and a small piece ofbell pepper. This gives the tamale a kick of flavor.
Once sautéed, put the combined ingredients into a blender until a liquid consistency is reached. This will be the salsa in the tamale.
Pour a cup of salsa into a pot and set it on a medium heat until boiling.
Whilst that boils, use that time to prepare banana leaves by boiling them in a pot of water. This step is not to cook the banana leaf but to clean it. Once they have reached boiling point, drain and scrape a towel across each banana leaf to remove all dirt.
Cut and wash your choice of meat into small square pieces.
Place the meat into the maza and wrap maza and meat with the banana leaf to enclose the ingredients
While wrapping each leaf, have a pot of water boiling at low temperature, cook the tamales for approximately five hours. Be sure to periodically check the water to avoid overflowing or over evaporation that could dry out the tamales.
In order to make sure tamales turn out correctly, open various tamales to make sure the meat is tender and cooked all the way through.
Once that is ensured, let the tamales moisten for 30 minutes as well as cool off.
Final step: Eat and enjoy with tú familia.
We cherish our grandmother's recipe for it is filled with pure love from her heart. She holds our family together through the love in her food.
Guatemalan or Mexican, tamales are a special dish in the Hispanic community. Made differently varying by region, adding your own personal kick to customize the taste of your family is the key to bonding through a meal with such history on a day like Noche Buena.