GYC hosts Lunar New Year celebration; raises money to attend conference
The Garland Youth Council celebrated the Lunar New Year Friday, Feb. 20 at the Food Truck Loft in downtown Garland. Attendees enjoyed karaoke and dinner from the food truck.
The event, along with T-shirt sales, served as a fundraiser to help GYC members go to Washington D.C. in March for the National League of Cities conference.
T-shirts, adult sizes in both crew neck and V-neck are still available by emailing GYC@GarlandTX.gov.
The mission of the Garland Youth Council is to provide a forum which educates Garland's youth to the various workings of city business and allows youth to be a voice to address their particular ideas and concerns.
The organizati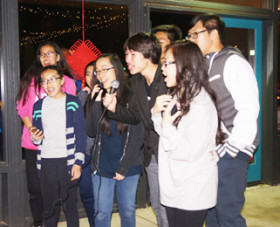 on's purpose:
· To serve as a vehicle to make sure the City Council is aware of needs and wants of Garland youth throughout the city.
· To promote and educate participants to the local political process.
· To assist the mayor and council in scheduling meetings which address youth concerns.
· To assure youth adherence to the criteria for membership in the youth council.
· To serve as ambassadors and messengers for the city of Garland.
Regular group meetings are the second Tuesday of each month. Committee meetings are on the fourth Tuesday of each month. All teens are welcome.