Hard work leads to SGHS basketball team's district title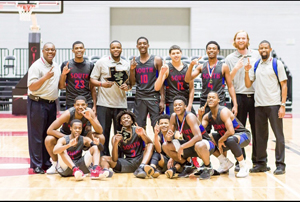 The South Garland Colonels boys' basketball team is having a great year thanks to the leadership of the coaches as well as the talent of the team.
Head Coach Dominique Parker, a 2003 SGHS graduate, played basketball throughout his high school career. He has coached the team for 11 years and served as head coach for four years.
It has been a good while since the Colonels have enjoyed this kind of success. They are this year's 10-6A district champs and have only three losses this season. It's getting where the gym is packed, with standing room only, for their games and this hasn't happened since the early 2000s when they were the first Garland ISD team to make it to the regional playoff level.
Parker credits the players and their parents for the success.
"I think the players are better young men off the court than on the court. They are 3.0 and higher students," Parker said. "Basketball doesn't define them. They are just using it as a vessel to further their education. They also have great parents, that's what separates them."
The team of one senior and 10 juniors is often being checked out by scouts and Parker said that it's tough to keep up with which universities have been there.
Three of the players, Tyrese Maxey, Chris Harris and Keyon Craddock have been varsity starters since their freshman year. Khalil Davis was on varsity as a freshman and although he wasn't a starter, he got time on the court.
Parker knew that this group of players would be good, but he didn't know that some of them would start as freshmen.
"I'll never forget, we weren't even in the same district, but we went to play Garland High School on their court, with their student body watching, and as freshmen, the team took it to 'em," he said "Then I realized, 'OK, we may have something.' Then they just got better and better."
The coach expects the best from all the kids.
"Everyone is held to the same standard as far as how hard they are going to play, how unified they are going to be as a team, the way they carry themselves in the community and in the classroom," Parker said.
He teaches them to not do anything that will tarnish the name of their family and reminds them that it is one of the most valuable things they have.
"I use myself as an example," he said. "If I hadn't taken care about how I presented myself when I was a student here, there would be no way I'd get a job here when I came back."
Parker also emphasizes that the team is like a family.
The most talented teams win because they go to bat for each other and have that brotherly feeling and they play for each other…especially in tough games. That's where family comes in.
He said that the team is successful because of the way they carry themselves in the classroom and community and how hard they work at practice. He added that players even call to ask if he will open the gym so they can get extra practice.
"With the work they are doing, they deserve success," he said.
But he doesn't let them think that there isn't more work to do.
"Our goal wasn't to win 28-29 games, it is to win the state championship…And we are in a position to make a run for it," Parker said.
He also doesn't want them forget that they can lose on any given night and the team stays grounded by remembering a playoff loss against Rockwall last year in triple overtime at the buzzer.
Two of the players that started as freshmen, Tyrese Maxey and Chris Harris, took some time to visit about Parker's influence and the team's success.
Maxey said that the coach influences them about keeping their grades up. He also said that they are always on their best behavior out in the community because they know they are representing South Garland basketball.
Harris added that the team stays grounded in the classroom and prepared for everything.
"You never know what people are going to think of you," he said. "They might just think of you as a jock, not a hard worker in the classroom."
On remaining humble through this year's success, both Harris and Maxey said that they have tunnel vision. They don't think about past scores or wins or losses.
"We never want to disrespect a team because you can be beaten on any night," Harris said. "We have to keep working hard on the court."
Maxey added that when they step on the court for practice, they go at like they haven't been winning. He added that the coach keeps them humble because he reminds them that there is always a way to improve.
Both players have bobbleheads. Harris earned his during his freshman year when he worked hard to help carry the team when Maxey was injured. He got them to the second round of the playoffs and was voted Newcomer of the Year in DFW.
Maxey got his a few weeks ago when he was voted Inside High School Sports Player of the Week.
Both players have spent lots of time in the spotlight. Harris said he was nervous about it at first, but they are used to it now.
"The first time I was on TV, I was so nervous," he said. "It was like, 'What am I going to say. I can't say the wrong thing. It's live.'"
Harris and Maxey, who have been friends since fifth grade, said that they get lots of support and encouragement from their families.
Harris said that he will major in kinesiology in college. Maxey plans to study communications and broadcasting.