Harmony Garland grad receives Congressional Award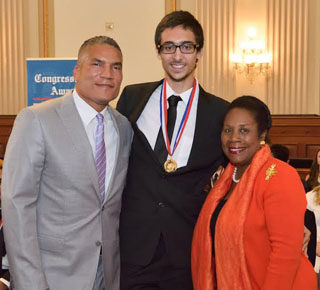 Harmony Public Schools is proud to announce that 2016 graduate Ahmet Selimoglu has been awarded the Congressional Award Gold Medal in recognition of his efforts toward volunteer service, personal development, physical fitness and exploration.
Ahmet's journey to the award first took him on a tour through the southwest. To compare his experiences against the cultural stereotypes portrayed by Hollywood, he traveled through Oklahoma, Arizona, and California conducting interviews with local residents.  He also completed more than 400 volunteer hours, improved his SAT scores by 800 points, and became the best soccer goalkeeper in his school.
Ahmet says he is honored to be recognized and appreciates the confidence the program has given him.
"I never thought that I would get it, but as time went on it became easier," he said.
The Congressional Award program is a voluntary, non-competitive achievement course designed to help students reach personal goals. It is the only youth program established by Congress. Ahmet started the program in eighth grade as part of a leadership club at Harmony School of Innovation – Garland and is one of 21 gold medalists in Texas and 325 gold medalists nationwide who will travel to DC this week to receive their medals.
Students are required to meet goals in four categories: physical fitness, exploration or expedition, personal development and voluntary public service. There are six achievement levels in the program and it's open to students ages 14 to 23.
Ahmet graduated HSI-Garland in May and plans to study mechanical engineering at the University of Texas at Austin.
About Harmony Public Schools
Harmony Public Schools are 46 high performing K-12 college preparatory charter schools throughout Texas. Harmony blends the highest standards and expectations, with a rigorous math- and science-centered curriculum and dedicated and engaged teachers and families to cultivate excellence and prepare students to succeed in college, careers and life. At Harmony Public Schools, we believe every child can succeed, and we are committed to helping them realize their full potential. To learn more about Harmony Public Schools and our campuses across Texas, visit: www.harmonytx.org, and follow us on Twitter at @HarmonyEdu and 'Like' us on Facebook: www.facebook.com/HarmonyTexas.