Harmony Science hosts girl-powered STEM event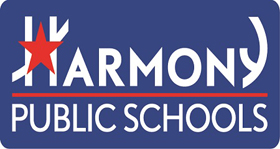 One hundred Girl Powered Workshops to take place around the world in a global initiative focused on making robotics reflective of the diverse society we live in and redefine the face of STEM. Event is ​sponsored​ ​by​ ​VEX​ ​Robotics,​ ​the​ ​REC​ ​foundation,​ ​and​ ​Harmony Science Academy​ ​Garland.
​
Harmony​ ​Science​ ​Academy​ ​is​ ​proud​ ​to​ ​be​ ​one​ ​of​ ​the​ ​hundred​ ​Girl​ ​Powered workshops​ ​that​ ​will​ ​take​ ​place​ ​around​ ​the​ ​world​  ​Oct.​ ​6-15​ ​coinciding​ ​with​ ​the​​ ​​United​ ​Nation's International​ ​Day​ ​of​ ​the​ ​Girl​.​ ​This​ ​global​ ​initiative​ ​was​ ​created​ ​through​ ​a​ ​partnership​ ​between​ ​the​​ ​​Robotics​ ​Education​ ​& Competition​ ​Foundation​​ ​and​​ ​​VEX​ ​Robotics​,​ ​who​ ​are​ ​working​ ​to​ ​redefine​ ​the​ ​face​ ​of​ ​STEM​ ​and​ ​make​ ​robotics reflective​ ​of​ ​the​ ​world​ ​we​ ​live​ ​in,​ ​and​ ​the​ ​one​ ​we​ ​want​ ​to​ ​leave​ ​behind.
The​ ​Girl​ ​Powered​ ​workshops​​ ​were​ ​created​ ​to​ ​show​ ​girls​ ​how​ ​exciting​ ​it​ ​is​ ​to​ ​be​ ​involved​ ​with​ ​STEM,​ ​showcasing examples​ ​of​ ​how​ ​women​ ​are​ ​changing​ ​the​ ​world,​ ​providing​ ​tools​ ​for​ ​success,​ ​and​ ​creating​ ​a​ ​comfortable​ ​environment where​ ​all​ ​students​ ​confidence​ ​and​ ​abilities​ ​can​ ​flourish. The​ ​Girl​ ​Powered​ ​workshop​ ​will​ ​feature​ ​guest​ ​speakers,​ ​hands-on​ ​STEM​ ​activities​ ​and​ ​an​ ​opportunity​ ​to​ ​apply​ ​for​ ​a​ ​grant to​ ​start​ ​a​ ​new​ ​VEX​ ​IQ​ ​Challenge​ ​or​ ​VEX​ ​Robotics​ ​Competition​ ​team.
"We're​ ​excited​ ​to​ ​support​ ​the​ ​REC​ ​Foundation​ ​and​ ​VEX​ ​Robotics​ ​by​ ​hosting​ ​a​ ​Girl​ ​Powered​ ​workshop.​ ​We​ ​fully​ ​back​ ​the intent​ ​of​ ​this​ ​initiative,​ ​which​ ​is​ ​designed​ ​to​ ​engage​ ​more​ ​young​ ​women​ ​in​ ​STEM​ ​at​ ​an​ ​early​ ​age​ ​to​ ​ensure​ ​that​ ​our robotics​ ​programs​ ​​attract​ ​as​ ​many​ ​students​ ​interested​ ​in​ ​STEM​ ​as​ ​possible​,"​ ​said​ ​Janet​ ​Nimer,​ ​engineering​ ​teacher​ ​and VEX​ ​Robotics​ ​Team​ ​Coach.​ ​"As​ ​a​ ​robotics​ ​coach​ ​and​ ​mentor,​ ​I​ ​see​ ​firsthand​ ​the​ ​knowledge​ ​and​ ​confidence​ ​students​ ​gain by​ ​participating​ ​in​ ​competitive​ ​robotics​ ​programs​ ​like​ ​VEX​ ​Competitions,​ ​even​ ​over​ ​the​ ​course​ ​of​ ​just​ ​one​ ​season.​ ​The Girl​ ​Powered​ ​initiative​ ​will​ ​help​ ​reach​ ​many​ ​more​ ​young​ ​women​ ​who​ ​might​ ​not​ ​have​ ​thought​ ​they​ ​would​ ​be​ ​accepted​ ​in robotics."
For​ ​more​ ​information​ ​visit​​ ​​GirlPowered.com​. About​ ​the​ ​Robotics​ ​Education​ ​&​ ​Competition​ ​Foundation.
The​ ​REC​ ​Foundation​ ​seeks​ ​to​ ​increase​ ​student​ ​interest​ ​and​ ​involvement​ ​in​ ​science,​ ​technology,​ ​engineering​ ​and mathematics​ ​(STEM)​ ​by​ ​engaging​ ​students​ ​in​ ​hands-on,​ ​sustainable​ ​and​ ​affordable​ ​curriculum-based​ ​robotics engineering​ ​programs​ ​across​ ​the​ ​U.S.​ ​and​ ​internationally.​ ​The​ ​REC​ ​Foundation​ ​develops​ ​partnerships​ ​with​ ​K-12 education,​ ​higher​ ​education,​ ​government,​ ​industry,​ ​and​ ​the​ ​nonprofit​ ​community​ ​to​ ​achieve​ ​this​ ​work.​ ​For​ ​more information,​ ​please​ ​visit​​ ​​RoboticsEducation.org​​ or ​for​ ​details​ ​on​ ​upcoming​ ​events,​ ​​visit​​ ​​RobotEvents.com​.
About​ ​VEX​ ​Robotics: VEX​ ​Robotics​ ​is​ ​a​ ​leading​ ​global​ ​provider​ ​of​ ​educational​ ​robotics​ ​products​ ​to​ ​schools,​ ​universities​ ​and​ ​competition teams.​ ​Their​ ​scalable​ ​and​ ​affordable​ ​solutions​ ​span​ ​primary​ ​and​ ​secondary​ ​schools​ ​while​ ​encouraging​ ​teamwork, leadership​ ​and​ ​problem​ ​solving.​ ​With​ ​easily​ ​customizable​ ​projects,​ ​educators​ ​can​ ​match​ ​their​ ​students'​ ​abilities​ ​and prepare​ ​STEM​ ​problem-solvers​ ​of​ ​tomorrow.
About​ ​Harmony​​ ​​Public​ ​Schools: Harmony​ ​Public​ ​Schools​ ​are​ ​55​ ​high​ ​performing​ ​K-12​ ​college​ ​preparatory​ ​charter​ ​schools​ ​throughout​ ​Texas.​ ​Harmony blends​ ​the​ ​highest​ ​standards​ ​and​ ​expectations,​ ​with​ ​a​ ​rigorous​ ​math-​ ​and​ ​science-centered​ ​curriculum​ ​and​ ​dedicated​ ​and engaged​ ​teachers​ ​and​ ​families​ ​to​ ​cultivate​ ​excellence​ ​and​ ​prepare​ ​students​ ​to​ ​succeed​ ​in​ ​college,​ ​careers​ ​and​ ​life.​ ​
At Harmony​ ​Public​ ​Schools,​ ​we​ ​believe​ ​every​ ​child​ ​can​ ​succeed,​ ​and​ ​we​ ​are​ ​committed​ ​to​ ​helping​ ​them​ ​realize​ ​their​ ​full potential.​ ​To​ ​learn​ ​more​ ​about​ ​Harmony​ ​Public​ ​Schools​ ​and​ ​our​ ​48​ ​campuses​ ​across​ ​Texas,​ ​please​ ​visit: www.harmonytx.org,​ ​and​ ​follow​ ​us​ ​on​ ​Twitter​ ​at​ ​@HarmonyEdu​ ​and​ ​'Like'​ ​us​ ​on​ ​Facebook: www.facebook.com/HarmonyTexas.