Health inspection report: December 7-11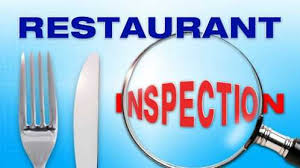 Each week the city of Garland Health Department conducts inspections of establishments where food is served.  Inspections include day care centers, retirement homes, school cafeterias, restaurants – fast food and dine-in, convenience stores, and grocery stores.
A failing grade includes anything below 60.  Any establishment scoring less than 70 is deemed "high risk" and inspection frequency of that establishment is increased. Establishments scoring less than 50 are subject to mandatory closure.
| | | | | | | | | |
| --- | --- | --- | --- | --- | --- | --- | --- | --- |
| FACILITY NAME |   | STREET NUMBER |   | STREET NAME |   | ACTIVITY DATE |   | SCORE |
| ALL STAR DONUTS | | 1546 | | ROWLETT | | 12/8/2015 | | 90 |
| ALTERNATIVE EDUCATION CENTER | | 2015 | | COUNTRY CLUB | | 12/8/2015 | | 99 |
| AMELIA'S TORTILLERIA | | 150 | | KINGSLEY | | 12/9/2015 | | 88 |
| ART BAKERY | | 3112 | | JUPITER | | 12/7/2015 | | 92 |
| AUSTIN ACADEMY | | 1125 | | BEVERLY | | 12/8/2015 | | 88 |
| BALSAS MEXICAN RESTAURANT | | 421 | | JUPITER | | 12/10/2015 | | 72 |
| BEEF HOUSE | | 3110 | | SATURN | | 12/8/2015 | | 81 |
| COCINA TIA ELY | | 719 | | MILLER | | 12/8/2015 | | 70 |
| COPPER KETTLE | | 1456 | | BELTLINE | | 12/10/2015 | | 70 |
| DOMINO'S PIZZA | | 149 | | KINGSLEY | | 12/7/2015 | | 80 |
| EL SABROSO TAQUERIA | | 3426 | | KINGSLEY | | 12/9/2015 | | 72 |
| EVEREST GROCERY | | 3022 | | SHILOH | | 12/9/2015 | | 84 |
| FATHER & SON TOBACCO STORE | | 3225 | | FOREST | | 12/11/2015 | | 62 |
| FIESTA MART #54 | | 2940 | | FIRST | | 12/10/2015 | | 67 |
| | | | | | | | | 63 |
| GOLD MINE RESTAURANT | | 3127 | | FIRST | | 12/7/2015 | | 52 |
| GOOD SHEPHERD CATHOLIC SCHOOL | | 214 | | GARLAND | | 12/9/2015 | | 79 |
| GRANDY'S | | 145 | | GARLAND | | 12/8/2015 | | 65 |
| HU TIEU MI VIETNAMESE | | 4425 | | WALNUT | | 12/7/2015 | | 54 |
| IRON WOK EXPRESS | | 3235 | | GARLAND | | 12/9/2015 | | 88 |
| JACK IN THE BOX #711 | | 335 | | GARLAND | | 12/11/2015 | | 74 |
| JACKSON MIDDLE SCHOOL | | 1310 | | BOBBIE | | 12/7/2015 | | 92 |
| JAIMES DONUTS | | 6850 | | SHILOH | | 12/7/2015 | | 92 |
| JFE PARTNERSHIP K557 | | 6850 | | SHILOH | | 12/11/2015 | | 86 |
| JS QUICK STOP | | 3464 | | CAMPBELL | | 12/8/2015 | | 88 |
| KROGER FOOD STORE #557 | | 6850 | | SHILOH | | 12/11/2015 | | 93 |
| | | | | | | | | 86 |
| | | | | | | | | 78 |
| KROGER FOOD STORE #559 | | 1406 | | WALNUT | | 12/11/2015 | | 70 |
| LA MICHOACANA #34 | | 6535 | | DUCK CREEK | | 12/9/2015 | | 61 |
| LA MICHOACANA#34 | | 6535 | | DUCK CREEK | | 12/9/2015 | | 60 |
| LA RANCHERA SUPERMARKET #4 | | 3160 | | SATURN | | 12/8/2015 | | 76 |
| LA XANH | | 3575 | | WALNUT | | 12/7/2015 | | 74 |
| MAIN STREET CAFE | | 627 | | MAIN | | 12/7/2015 | | 74 |
| MARKET LATINA RESTAURANT | | 3050 | | FIRST | | 12/9/2015 | | 64 |
| MR J'S FOOD STORE | | 906 | | HIGHWAY 66 | | 12/7/2015 | | 92 |
| OLIVE OIL PIZZERIA | | 552 | | I-30 | | 12/7/2015 | | 85 |
| ORCHARD HILLS GROCERY | | 1326 | | KINGSLEY | | 12/11/2015 | | 79 |
| PANDA-JR CHINESE RESTAURANT | | 834 | | BELTLINE | | 12/7/2015 | | 72 |
| PAPA OSH | | 565 | | OATES | | 12/8/2015 | | 84 |
| PIZZA PATRON | | 2930 | | FIRST | | 12/9/2015 | | 84 |
| REGGAE WINGS & TINGS INC | | 5481 | | BROADWAY | | 12/8/2015 | | 78 |
| SCOOTERS | | 1401 | | NORTHWEST | | 12/8/2015 | | 73 |
| SHOP N GO | | 1815 | | FIRST | | 12/8/2015 | | 70 |
| STATE STREET PUB & GRILL | | 601 | | STATE | | 12/8/2015 | | 70 |
| SUBWAY #16557 | | 555 | | INTERSTATE 30 | | 12/8/2015 | | 81 |
| THACH THAO | | 3212 | | JUPITER | | 12/8/2015 | | 56 |
| TWO GUYS PARTNERS | | 612 | | STATE | | 12/7/2015 | | 95 |
| US FOODS | | 950 | | SHILOH | | 12/11/2015 | | 98 |
| VN DAY CARE CENTER INC | | 3630 | | SHILOH | | 12/8/2015 | | 90 |
| WAFFLE HOUSE #1637 | | 3109 | | JUPITER | | 12/10/2015 | | 85 |
| WHATABURGER #400 | | 1506 | | BUCKINGHAM | | 12/7/2015 | | 79 |
| WING CITY | | 1456 | | BELTLINE | | 12/9/2015 | | 84 |