High school basketball season underway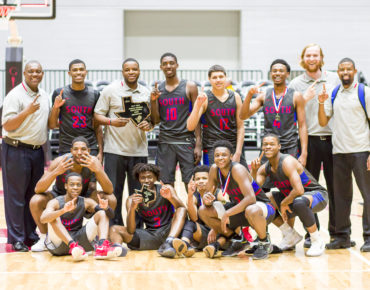 The Garland ISD high school varsity girls' basketball district season started Friday, Dec. 8, with wins for The Lady Eagles of Rowlett High School, the Lady Patriots of Lakeview Centennial High School and the Lady Rangers of Naaman Forest High School.
The Lady Eagles got a 73-19 win over the North Garland Lady Raiders. Kennedy Warren scored 17 points for RHS and Lauren Small scored 11.
Tyvionna Williams scored 9 points for NGHS.
The Lady Rangers defeated the Garland High School Lady Owls by a score of 52-41. Jordan McClenton scored 19 points for NFHS, Janyah Crabtree scored 13 and Bri Hampton scored 12.
The Lady Patriots got a 46-8 over South Garland's Lady Colonels.
Girls' district play continues through the first part of February.
In boys' basketball, the South Garland Colonels are enjoying both single game and tournament success. They were the champions of the Curtis Culwell Invitational Tournament that took place Nov. 30 – Dec. 2. The Colonels first defeated Mesquite Horn by a score of 74-63. Tyrese Maxey was the high scorer with 17 points and Chris Harris, Jr. scored 15.
The Colonels then defeated Plano East High School 64-34 and Harris was the high scorer with 22 points. Maxey scored 16.
Their next game was against Sulphur Springs High School and they won 60-51. Maxey scored an impressive 31 points.
The game that secured the championship for the Colonels was against Allen High School. SGHS won that game in overtime by a score of 68-62. Maxey again had an impressive point total of 33 and Harris scored 19.
Earlier in November, the Colonels also won the Coppell Tournament. They first beat Tyler Lee High School 74-46. They won the next two tournament rounds against San Antonio Clarke 62-38 and Arlington Lamar 64-45. The next game matched them with Rockwall High School and the Colonels took that game 59-50. The championship round was against Coppell High School and SGHS won 68-59.