Hillside receives award nomination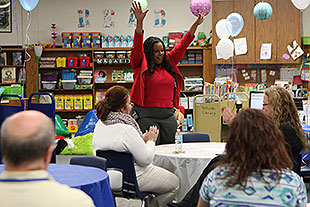 Earning a spot as one of Texas' top elementaries, Hillside Academy for Excellence recently received a Blue Ribbon Schools award nomination. The State selected 26 public and private campuses to recommend for this national honor. The Blue Ribbon Schools program—an initiative of the U.S. Department of Education—recognizes campuses where students perform at very high levels.
Nominees must now complete a rigorous application process. Awards will be announced in September with a ceremony following later in the fall. Winners demonstrate exemplary achievements on state assessments and an economically disadvantaged population of at least 20 percent.
"Congratulations to both Hillside students and staff," said Superintendent Bob Morrison. "This nomination speaks to your hard work, dedication and academic excellence."
Seven Garland ISD campuses have received 12 awards since the Blue Ribbon Schools program was founded in 1982. Most recently, Kimberlin Academy for Excellence won a 2015 recognition.
Information and photo provided by Garland ISD.