HS football recap: August 25-26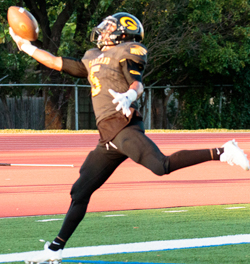 Photos by: Roger Mathis – www.mempics.com and Brad McClendon – www.bhmimages.com
Owls defeat Irving MacArthur HS – The Garland Owls got a 22-14 win over Irving MacArthur High School Thursday, Aug. 25. Josh Thompson scored for the Owls on a 61-yard rush on the first play of the game. In the second quarter, Navaje Bradley caught a 43-yard pass from Brown for a touchdown. Felipe Zamora also scored i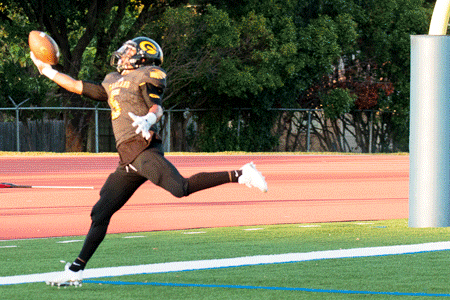 n the second on a 9-yard run. Joshua Chavez capped off the scoring with a 32-yard field goal in the fourth. Chavez added one PAT.
The Owls put together 390 total yards. Quarterback Joshua Brown ended the night at 8-13 for 112 yards.
SGHS loses to Royse City – The South Garland Colonels were defeated by Royse City High School by a final score of 32-6 Friday, Aug. 26. Royse City HS collected more than 430 yards total offense while the Colonels were unable to get to the 250 yard mark. Quarterback Caleb Dabney scored the o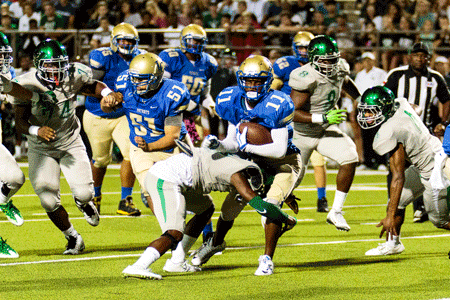 nly SGHS touchdown on a rushing play. Brodis Mathews caught six Dabney passes for 109 yards.
Waxahachie HS defeats Lakeview Centennial Patriots – LCHS was defeated Friday, Aug. 26, by Waxahachie High School. The final score was 46-34. Allen Copeland scored first for the Patriots on a 1-yard run in the first quarter and Shamond Greenwood added another first quarter score on a 42-yard pass reception from quarterback Kamron Fields. Second quarter scores came when Calen Mayfield caught a 54-yard Fields pass and J'Michael Blanchett caught a 51-yarder from Fields. Greenwood scored again in the fourth on a 66-yard pass from Fields. David Garza added four PATs. Fields was 12-23 with 307
passing yards on the night.
Raiders get win over Greenville HS – The North  Garland Raiders got a 13-10 victory over Greenville High School Friday, Aug. 26. NGHS was able to pull out the win even though they had only three first downs compared to Greenville's 18 and 111 total offensive yards against Greenville's 260.
The Raiders scored in the first quarter on a 2-yard run by Xzavier Roberts and Jose Gutierrez added the PAT as well as a fourth quarter 30-yard field goal that won the game.
Rowlett Eagles defeat Lewisville HS – Also Friday, Aug. 26, the Rowlett Eagles got a 20-17 win over Lewisville High School with RHS kicker Josh Aldana starting the scoring with a 40-yard field goal. Quarterback Preston Weeks scored next on a 44-yard run at the end of the first quarter. In the second,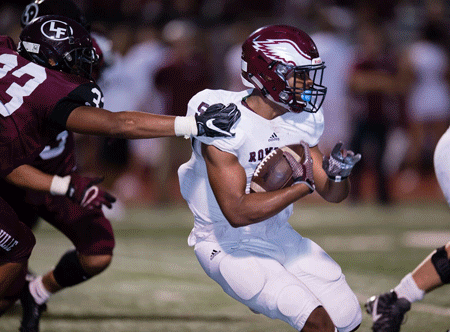 Aldana contributed again with a 42-yard field goal.
The last score of the game came on a 22-yard pass from Weeks to Cameron Vitosh. Weeks passed for 136 yards on the night and rushed for 90. LaDarius Dickens had eight catches for 95 yards.
Mustangs defeat Trophy Club Byron Nelson – In another Friday, Aug. 26 contest, the Sachse Mustangs got a 47-41 overtime win over Trophy Club Byron Nelson High School. Quarterback Jalen Mayden hit Nate Shelton on 4- and 36-yard touchdown throws in the first and fourth quarters. Mayden also scored two rushing TDs on 7- and 1-yard runs in the second.
The kick return team added to the point total in the third quarter when Nick Alexander had a 98-yard kickoff return. Kelon Wilson got a 5-yard touchdown in the fourth quarter as well as the game winning 7-yard rushing score for the overtime TD. Kicker Geoffrey Pace added five PATs.
Mayden ended the night at 19-30 for 199 yards. Christian Cole carried the ball 12 times for 110 yards.
NFHS shuts out Richardson High School – Naaman Forest High School defeated Richardson High School by a final score of 26-0 Friday, Aug. 26. Isiaha Coffer-Jones scored two of the NFHS TDs. Both came on 1-yard runs in the first and third quarters. Daviciea McCartney added to the total on a 26-yard pass reception from quarterback Thomas Gutierrez and Ty'Reek James scored the final TD in the fourth on a 19-yard rush. Kevin Hernandez added two PATs.
Gutierrez finished the night at 4-4 for 123 yards. James had 16 carries for 88 yards.