HS football recap: August 27-28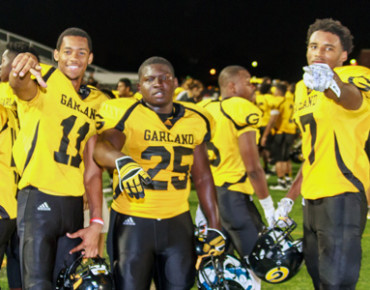 Photos by Roger Mathis, www.mempics.com and Brad McClendon, www.bhmimages.com
The 2015 football season started Thursday, August 27 with the Lakeview Centennial Patriots taking on Irving High School and the Rowlett Eagles playing Lewisville High School.
LCHS over Irving HS
The Patriots got a 34-7 win over Irving HS.
Quarterback Kamron Fields threw for two touchdowns to receiver Shamond Greenwood.
Jamil Linwood scored twice on 3- and 17-yard runs and Calen Mayfield scored for the Patriots on a 79-yard run.
John Guerra was good on four extra-point attempts.
Greenwood caught five passes for 62 yards on the night and Fields threw for 153 yards.
RHS defeats Lewisville HS
The Eagles defeated Lewisville HS by a final score of 38-20.
Quarterback Logan Bonner ended the night at 19-29, 379 yards and four touchdowns. LaDarius Dickens caught two Bonner passes for TDs and collected 174 yards on nine receptions.
Dylan Watts and Josh Lewis also had touchdown receptions. Watts collected 119 receiving yards on the game with 99 of those yards coming on a pass from Bonner.
Kobe Morrow also scored for the Eagles on a 4-yard run.
Kicker Alvin Kenworthy added a 46-yard field goal and was good on five PATs.
Garland ISD high schools had five Friday, Aug. 28 games.
SHS over Wylie HS
The Sachse Mustangs got a 37-24 win over Wylie HS.
Jalen Mayden and Alex Williams each threw for a touchdown pass. Kameron Steen caught 58-yard TD pass from Williams and Devin Duvernay caught a 67-yard Mayden TD pass.
Mayden collect 176 passing yards on the game and Williams passed for 132. Mayden also carried the ball 10 times for 73 yards.
Kelon Wilson and Williams each scored rushing touchdowns, Wilson on a 42-yard run and Williams on a 22-yard run.
The defense scored for the Mustangs on a 37-yard interception return by Isaiah Humphries.
Devin Duvernay had nine catches for 209 yards on the game.
Kicker Geoffrey Pace scored on four PATs and a 29-yard field goal.
GHS over Irving MacArthur
The Owls defeated Irving MacArthur HS by a final score of 49-28.
Quarterback Jacoby Williams threw for three GHS touchdowns. The first was a 14-yard throw caught by Melvin Loveless, the next a 67-yard pass caught by Coree Compton, and then he connected with Loveless again on a 13-yard TD pass.
Williams also scored on a 9-yard run.
Michael Truman scored three TDs for the Owls on 14-, 2- and 23-yard runs.
Kicker Hunter Merriman added all seven extra points.
NFHS falls to North Mesquite HS
The Rangers were defeated by North Mesquite HS by a final score of 49-7.
Prince Hanks scored for NFHS on an 11-yard run and kicker Joshua Mendoza was good on the PAT.
NGHS defeated by Greenville HS
The Raiders lost to Greenville HS by a final score of 21-14.
Ladaireon Rose and Jamar Braziel each scored for the Raiders on 26-yard and 48-yard pass receptions from quarterback Zach Duffey.
Duffey ended the game at 12-22 with 178 yards.
Rose collected 96 yards in pass receptions and Dominique Pierce rushed 14 times for 92 yards.
Jose Gutierrez was good on both extra point kicks.
SGHS defeated by Richardson Berkner HS
The Colonels fell to Richardson Berkner High School by a final score of 45-35.
Quarterback Kevin Grissom threw for two TDs – a 64-yarder caught by Brodris Mathews and a 33-yarder caught by Michael Roberts.
Grisson and Vincent Jordan scored for the Colonels on a 1-yard runs. Jaylon Turner got a TD on a 26-yard rush.
Jordan put together 178 rushing yards on the night and Grisson passed for 297 yards.
Kicker Eduardo Lindero was good on all five PATs.