Ikandy distributes school backpacks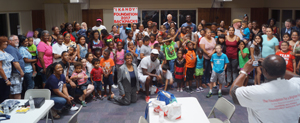 IKandy, the charitable foundation of Ike Diogu hosts an annual back-to-school event during which Garland children enjoy lunch and receive free backpacks filled with supplies.
During this year's event, which was held Saturday, Aug. 20, at downtown Garland's First Presbyterian Church, a group of Garland ISD students and their parents had lunch from Chik-fil-A before the backpacks were distributed.
The backpacks were sorted by grade level so that every child got the correct supplies.
Diogu's mother, Jane, runs the foundation and works hard to help as many children as possible. Her family, along with the foundation board labors alongside her to serve the community and they are all grateful for the opportunity to help Garland ISD children.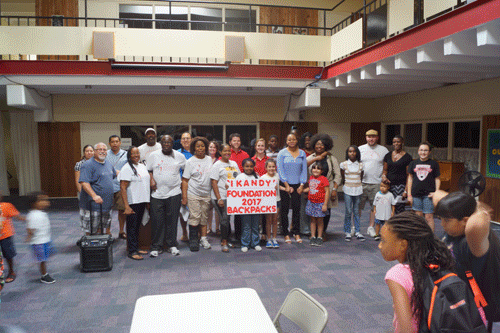 The foundation also organizes other events and hosts an annual Christmas gifts are given to children who might not get gifts otherwise. The Ikandy Foundation gets wish lists from disadvantaged children and Jane, her family and the board personally shop for the gifts each year.
The crowd heard from Garland ISD board of trustees member Linda Griffin who opened the festivities with a prayer, challenged the students to think about how they are going to do their best throughout the school year.
Austin Academy Assistant Principal Robert Dunbar addressed the group and offered some advice for school year success. He asked the students to read every day, be sure to get enough sleep (without electronic devices in the same room) and get involved in school activities such as clubs and sports.
About the Ikandy foundation:  The mission of the foundation is to provide empowerment, resources and leadership opportunities to equip our next generation of leaders, from all walks of life, to believe, to achieve and to succeed. Through community events and charitable endowments, the foundation achieves its goals of inspiring and equipping a new generation. Each year, the foundation facilitates a number of opportunities for kids to learn to give back, grow and change for the better.
For more information, visit www.ikandyfoundation.com.