Intrinsic Smokehouse & Brewery celebrates anniversary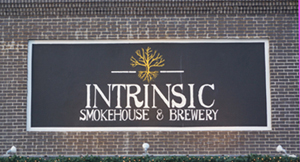 Prohibition ended Dec. 5, 1933, and Americans were free, once again, to drink at their own will. Fast forward 82 years to Dec. 5, 2015, the day that Intrinsic Smokehouse and Brewery opened its doors.
Well, happy days are here again! The downtown Garland brewery will celebrate its one year anniversary along with the anniversary of the repeal of prohibition Dec. 3. Intrinsic typically hosts a handful of guest drafts but will be doing a tap takeover of all their own beers for the occasion. Beers will include old favorites and the release of some special sours, mixed culture and bourbon aged beers.
Costumes representative of the 1920s are highly encouraged. Anyone who comes dressed up will receive one free raffle ticket. Raffle winners will be announced every hour and will include gift cards, growlers and much more.
It has been a whirlwind year for the establishment. Owners Cary and Molly Hodson released a crowd fund campaign at the end of 2014, giving Free Beer for Life and creating a following of loyal regulars. Since they opened, they have brewed more than 50 different styles of beer, giving these followers a multitude of options.
Being community oriented, Intrinsic has brewed collaboration beers with other breweries such as Cedar Creek, Noble Rey and up and coming Steam Theory. Currently on draft is a collaboration from another brewery, Lakewood. Intrinsic and Lakewood recently worked together to collect school supply donations and donated a portion of every pint sold to fund classroom projects on Donors Choose.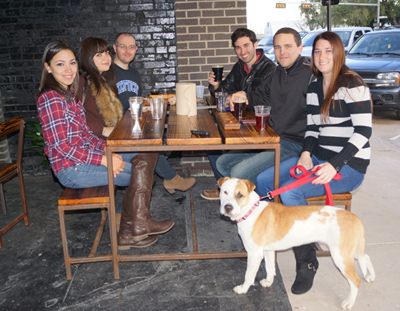 Other community events this year have included a Texas Tornado 5K, "Stop and Smell the Tulips" with Union Growler which benefits Hope for Warriors and a weekly food truck by Square Church.  Owner of the truck, Jake Tubbs, serves desserts to benefit his local missions. Tubbs also teamed up with the Intrinsic family to host "Trunk R Treat" on the square in downtown Garland. The event offered a fun and safe experience for the kids and brought in more than 1,500 people in just a few hours that Sunday afternoon.
Beer isn't the only craft being practiced at the pub. Intrinsic also offers a full menu focused around a Texas favorite—barbecue. A large, 100 percent wood-fired smoker—affectionately named "Tara"—is tended by pitmaster Tex.  Brewing and barbecue both have longstanding traditions in almost every culture. They know their roots but are not afraid to explore with the flavor of their meats and brews. Craft beer is about quality, barbecue is about family and Intrinsic is about both. This new barbecue joint was listed in D Magazine as one of the top 20 DFW.
The Hodsons recently took a leap and purchased the two buildings that they occupy. Additions are being made such as an outdoor stage that hosts daily live music and occasionally a comedy or art show.
"The welcoming that we have received by our neighbors and community has been astronomical," said Molly, who grew up in Garland. "We knew that we wanted to open in the historical downtown and we are so excited to see it growing with us."
What can be expected this year? More expansions to the patio, sour and bourbon beers, bottles and many more events!
More information about anniversary party:  https://www.facebook.com/events/830856463724293/.
For anniversary party tickets:  www.Intrinsicanniversary.eventbrite.com.